Dragon Age Inquisition on PS4 Will Beat the Xbox One Version
A message last week on a social media account for Dragon Age Inquisition is threatening to reignite the battle over whether the Xbox One and PS4 are more powerful. More specifically, it could trigger a whole new round of buyer outrage directed at Assassin's Creed Unity developer Ubisoft.
Late last week the official Twitter account for the Dragon Age franchise confirmed some resolution details about Dragon Age Inquisition, the next-generation title in the franchise coming November 18th. In the tweet, developer Bioware confirms that Dragon Age Inquisition will have a full high-definition resolution of 1080p when it arrives on store shelves.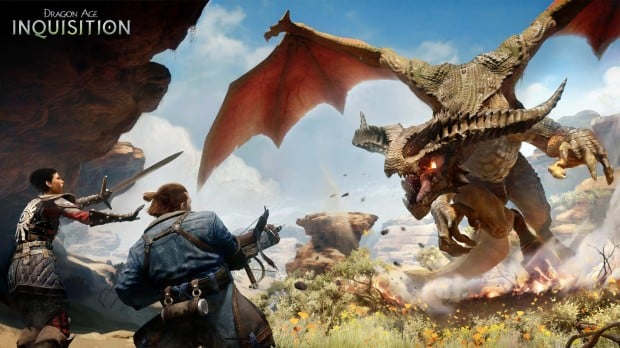 Confirmed: #DAI resolution is 1080p on PS4, and 900p on Xbox One. We maximized the current potential of each platform.

— Dragon Age (@dragonage) October 10, 2014
That tweet alone wouldn't be enough to get raised eyebrows. Following last year's rash of hard-core gamers comparing resolutions between consoles, it makes sense that Bioware would share more information about their game's resolution now and not risk any sort of backlash. The comments that came after that are the real issue. After confirming that the PS4 version of Dragon Age Inquisition is 1080p on Sony's PS4 and that Xbox One has resolution of 900p the messages then explains the reason for the difference in "we maximized the current potential of each platform."
The first part of the message is pretty easy to wave off, but not that second portion. There's no way to not read it as a direct reply to some of the backlash Ubisoft faced last week.
Read: Key Assassin's Creed Unity Detail Sparks PS4 Fan Outrage
During preview events for Assassin's Creed Unity, one of the game's developers spoke to a news outlet about the resolution the game would run at. This representative confirmed that the open-world adventure game would run at 900p on both the Xbox One and PS4. He said that Ubisoft had "locked" the game's resolution. He also blamed the lower than possible resolution on the game's sophisticated crowds and characters that inhabit the game world but aren't actually playable. There was also some talk about next-generation consoles GPU or graphics processing unit not being enough to get Assassin's Creed Unity to 1080p with everything that's going on in the game.
More recently, Ubisoft fired back at critics, saying that it locked Assassin's Creed Unity at that frame rate because that was its goal. The statement released on the developer's website also says that this is just a benchmark resolution and that it would continue to push for whatever is possible.
Read: The Real Reason Assassin's Creed Unity for PS4 Isn't 1080P
Resolution is important to hardcore gamers because the higher native resolution a video game console puts out, the better looking the game is – at least, that's in theory. If that were always true than the logical conclusion would be that the Xbox One is less capable of running the best looking next-generation games because of some hardware shortfall. After all, Assassin's Creed Unity and Dragon Age Inquisition aren't the first games to run at a lower resolution on the Xbox One than the PS4.
In the real world it's much more nuanced than average gamers are led to believe. Games that aren't running at 1080p on either console are scaled up until they hit 1080p. This guarantees that what users are seeing on their high-end televisions actually is high-definition even if the true resolution isn't. Second, how good a game looks also depends on another measurement called frames per second. Games with higher frames per second ratios look more life-like and realistic. Games with lower frames per second ratios tend to look like stop-motion animation or very bad video.
Assassin's Creed Unity's resolution is locked because Ubisoft is working towards maintaining a standard 30 frames per second across the entire game. It's interesting that Bioware would announce Dragon Age Inquisition's resolution but not share information about its frame rate. It's possible that Dragon Age Inquisition's resolution is high because it doesn't have a guaranteed frame rate.
Assassin's Creed Unity goes on sale in North America on November 11th. Dragon Age Inquisition arrives on November 18th. It's also worth noting that Assassin's Creed Unity was designed for next-generation consoles only. Dragon Age Inquisition will run on the PS3 and Xbox 360 plus the Xbox One and PS4.  

This article may contain affiliate links. Click here for more details.