DreamBook UMPC 700: Yet Another AmTek
To go along with Rob's recent post about a Rainbow of UMPC/Origami colors that AmTek created for Microsoft, comes word that there is another maker using the AmTek model. The Pioneer DreamBook UMPC 700 comes from Pioneer Computers Australia, (which should delight those Down Under Tableteers.) Let's see we've got eo's, SmartCaddies, and now Dreambooks, all using the AmTek design.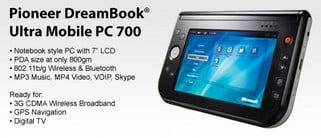 As an Amazon Associate I earn from qualifying purchases.