Droid Bionic Caught Arriving in Stores (Photo)
We're not exactly sure why Motorola and Verizon continue to be mum on an official release date for the Motorola Droid Bionic especially when a video teaser essentially confirmed the release date and Big Red is currently holding a contest for its first dual-core 4G LTE smartphone. Sadly, they'll also probably remain silent today even after a new photo surfaced showing off a Droid Bionic store demo unit meant for the upcoming launch.
What you see here is, very plainly, a Droid Bionic poking its head out from a box that has arrived at a store somewhere in the United States. Yes, the phone is officially arriving which means that the September 8th launch date is probably a pretty safe bet.
UPDATE: You can  read our full Droid Bionic Review here.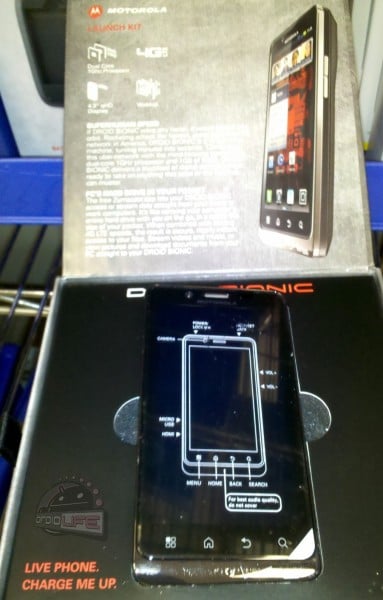 So, we have marketing materials, we have demo units, we even have a phone that is ready to be rooted but we still don't have a pre-order or a release date or any sort of official pricing.
Makes about as much sense as the Droid Bionic being announced at CES 2011 and being released 9 months later.
Via: Droid-Life