Droid Bionic Desktop Dock Reveals Hump Similar to Droid X2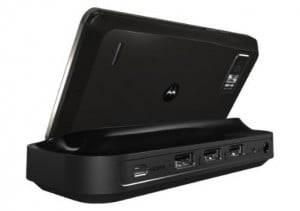 After a misfire of the Droid Bionic landing page by eager fans, the Motorola Droid Bionic, a 4G LTE handset that's destined for Verizon Wireless, appears to have a rear hump where the camera sensor is. Newly leaked image of the device's rear side when docked into the home dock, which provides ports for HDMI, USB ports, and an audio out jack, reveals the device's rear styling that's similar to the 3G-only Motorola Droid X2 that was recently launched on Verizon Wireless.
The dock will ship with a wireless remote and a wall charger.
Right now, the rear of the device reveals that the device will house an 8-megapixel camera sensor, making it the standard across the Droid 3, the Droid X2, and now the Droid Bionic.
The USB ports on the rear will also allow users to attach a USB mouse and keyboard to operate the Droid Bionic in Webtop mode if the device will ship with the Webtop OS like on the Motorola Atrix 4G. Motorola had promised that Webtop would be available for the Droid Bionic after the device is released at CES, but that was in reference to the now scrapped original Droid Bionic design. Hopefully, the company still has plans on rolling out the Webtop application, which is built on top of Linux, and gives users access to the full Mozilla Firefox browser so that when docked, you can view most webpages. For instance, some websites, like NBC and Hulu, won't stream videos to the mobile Android browser, but should work with the full Webtop Firefox browser. Currently, Amazon's product description does not mention the Webtop application, but does list that there will be a special docking screen on the phone that will allow users to maximize the Droid Bionic when docked, called Extra Sense.
In addition to the desktop dock, Amazon's also listing a battery dock for users to charge a spare battery. With 4G LTE devices consuming battery faster than 3G devices, having a spare charged battery handy while on the go may not be a bad idea for users who find themselves far away from a power outlet throughout most of the day.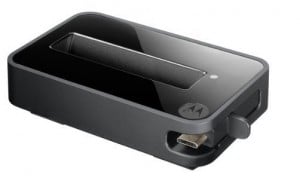 Pricing and availability information is not available for either devices at this time; Amazon is asking customers to sign up to be notified when these accessories are available.
Via: Droid-Life

This article may contain affiliate links. Click here for more details.