Droid Fighter, LG Cayman Release Dates Leaked
The release dates for two new, unannounced 4G LTE smartphones for Verizon Wireless' network were recently spotted. According to a document obtained by Droid-centric blog Droid-life, the Droid Fighter may be coming to Verizon at the end of the month on March 29 and the LG Cayman may land on 4/12. Initially, the dates and the model names had appeared on an earlier leak, but that leak had suggested that the dates were workshop times, suggesting that Verizon may begin employee training on those dates, but the latest leak shows that these are indeed launch dates for these new 4G LTE devices.
Not much information is currently available for the Droid Fighter. The device would join more recent Droid-family releases, such as the Motorola Droid 4 and the Motorola Droid RAZR Maxx on Verizon's 4G LTE network.
The LG Cayman smartphone is believed to be launched as the LG Lucid 4G. There is not much information available for the LG Cayman/Lucid 4G at this time either. LG and Verizon recently launched a 4G phone with a 720p HD display on Verizon's network in the form of the LG Spectrum. It's unclear if the Cayman/Lucid 4G will be a higher-end device than the Spectrum.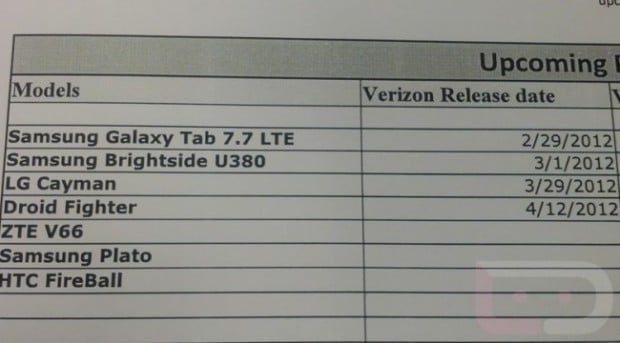 Also on the list is a device called the HTC Fireball. That device may launch as the HTC Incredible 4G on Verizon's network and join the Incredible family. The device has a contoured back that's a highlight of the HTC Incredible family. Previous leaked specs suggest that the Incredible 4G may have a dual-core 1.2 GHz processor, 1 GB RAM, 8-megapixel rear-facing camera, Ice Cream Sandwich on-board, and a Super AMOLED display. It's unclear if these specs are finalized and if HTC may upgrade the processor to make it more competitive.