Droid RAZR MAXX Review: Insane Battery Life (Editors' Choice)
The Droid RAZR MAXX from arrives on Verizon Wireless as somewhat of a surprise, following quickly in the footsteps of the Droid RAZR. Its massive 3300 mAh battery delivers the first 4G LTE smartphone that can last a full day in the real world. The RAZR MAXX has everything the smartphone user wants — a thin design, great screen and a battery that doesn't quit.
At 8.99 mm thick, the Droid RAZR MAXX is 2mm thicker than the original Droid RAZR, but still thinner than the iPhone 4S  (9.3 mm). The RAZR MAXX is living proof that Android users don't have to make the choice between battery life and a thinness.
The RAZR MAXX is the best phone Motorola has on the market, and it easily takes home a GottaBeMobile.com Editors' Choice Award.
Apple, Samsung and HTC should take note. This is how you make a 4G LTE smartphone.
Pros

Snappy performance
Beautiful qHD display
Lightweight, and thin, attractive design
Super long battery life

Cons

Unimpressive cameras
No Ice Cream Sandwich
Droid RAZR MAXX Review Summary
The Droid RAZR MAXX makes the best use of 2mm in recent smartphone history. Motorola took a phone we already liked and made it significantly better without ruining the nice look and thin form factor.
This is the first 4G LTE smartphone I've used that doesn't need battery tweaks, extended batteries or a charge up in the evening to get through a day of real world use.
In order to deliver a really amazing 4G LTE smartphone experience, you need all the ingredients — long battery life, a nice screen, snappy performance, 4G LTE and a thin form factor. If you skip one of these, you can kill the user experience. Motorola proves you can have your 4G LTE connection and long battery life too.
The Droid RAZR MAXX also wins my recommendation to family members. It's the phone I'm recommending to my sister, who wants a thin 4G LTE phone that doesn't die on her when she leaves work to head out on the town. It's the first 4G LTE phone I feel comfortable telling her to go out and buy.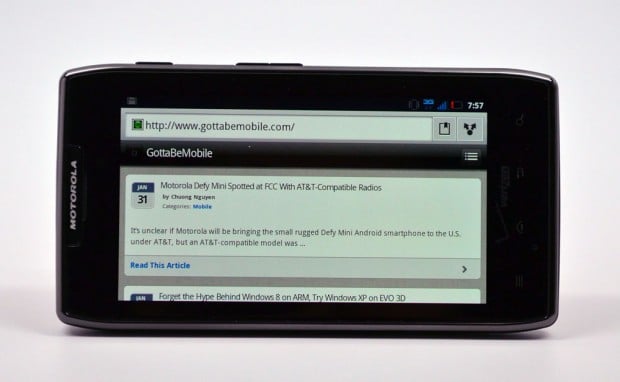 Droid RAZR MAXX Review Guide

Related Droid RAZR MAXX Review Articles

Buy the RAZR MAXX
Droid RAZR MAXX Hands On Video
Here's our hands-on look at the Droid RAZR MAXX and a look at battery performance.
Droid RAZR MAXX Design and Hardware
The Droid RAZR MAXX keeps the overall look of the original Droid RAZR, but it is about 2mm thicker to compensate for the massive battery. Even with a larger 8.9mm thick frame, the Droid RAZR MAXX is thinner than the iPhone and feels great in your hand.  The phone also remains light at 5.1 ounces. This is .6 ounces heavier than the original, but barely noticeable other than the fact that the battery removes the top-heaviness we noted in the RAZR.
Motorola kept the same 4.3 inch qHD display, but toned down the Motorola logo at the top of the phone, which is now a more tasteful size. The two-tone color scheme delivers a nice look, and the kevlar back offers a strong finish that's also attractive.
I'm a fan of the overall design, which is somewhat boxy, but feels good in my hands thanks to plenty of curves on the edges and on the sides of the phone. This is the same design that drew me to the Motorola Droid XYBOARD tablet. I wouldn't use the RAZR MAXX as a hockey puck, but I'm not worried about carrying it around without a case.
The internal specs remain unchanged, and for good reason:
CPU: 1.2-GHz TI OMAP 4330
RAM: 1GB
Internal Storage: 16GB
Display: 4.3-inch, qHD 960 x 540 resolution
Cameras: Rear – 8MP; Front – 1.3MP
Battery: 3300 mAh battery
All of the ports sit along the top of the device, including headphones, Mini HDMI and MicroUSB ports. The micro SD card and SIM slot are tucked along the left edge of the phone. Motorola placed the power button and volume rocker along the right side of the phone.
Droid RAZR MAXX Display
The Droid RAZR MAXX has a beautiful looking 4.3 inch qHD display with a 540 x 960 resolution that is a good fit for the 4.3 inch screen. Thanks to this higher than average resolution you can see more of a webpage or email on your screen at one time. You also gain better HD viewing and crisper text.
The RAZR MAXX's display has deep colors and high contrast. The colors are brighter than I've seen on some phones like the Samsung Stratosphere, but they are not as true to life.
While colors are bolder than the HTC Thunderbolt, they're also less true to reality due to the contrast. That said, watching HD video is a pleasure on this screen and viewing angles are quite wide.
One of my favorite things about the Droid RAZR MAXX's display is that it's easy to read outdoors, even when the sun is out. The auto brightness setting is smart enough to crank up just the right amount.
Droid RAZR MAXX Performance
Motorola doesn't deliver long battery life with a hampered processor. The RAZR MAXX has a 1.2GHz dual core CPU and 1GB of RAM that delivers a snappy experience and enough power to play games without worrying about lag.
The RAZR MAXX handles app switching, opening apps and in-app actions swiftly, with the occasional wait being linked to needing information from the network.
It handled Madden 2012 without an issue. Gameplay was smooth and the graphics looked great.
If you want to see the Droid RAZR MAXX performance in the raw numbers, check out this comparison below.
Droid RAZR MAXX

Nenamark 1 — 45.8 FPS
Nenamark 2 — 28.2 FPS
Quadrant — 2482

Droid Bionic

Nenamark 1 — 47 FPS
Nenamark 2 — 27.7 FPS
Quadrant — 2228

HTC Thunderbolt

Nenamark 1 — 30.3 FPS
Nenamark 2 — 11.7 FPS
Quadrant — 1220
The RAZR MAXX has 4G LTE connectivity which means you can expect fast upload and download speeds. Verizon promises 5-12 Mbps down and 2-5Mbps up, but I saw consistently higher speeds in Ohio where I tested.
Droid RAZR MAXX Battery Life
By adding 2mm of depth to the RAZR MAXX, Motorola was able to ship the Droid RAZR MAXX with a 3300 mAh battery, which has 85% more juice than the original Droid RAZR's battery (1780 mAh).
This large battery plus Motorola's software and hardware optimizations make it easy for the 4G LTE smartphone to last a full day of no-holds-barred use, or up to a day and a half of average use. During my testing it lasted between 21 and 38 hours depending on how much I used it and which features I used.
You can read more about our Droid RAZR MAXX battery test, and be glad that you won't have to spend hours looking for how to get better battery life. The Droid RAZR MAXX's long-lasting battery life is ready to go right out of the box.
While many Android geeks jumped at the chance to buy the Samsung Galaxy Nexus (Read: Galaxy Nexus Review ) to be on the bleeding edge of Android 4.0 Ice Cream Sandwich, the latest version of Google's mobile operating system, a lot of them complain about sub-par battery life. The Nexus ships with a 1850 mAh battery (56% capacity of Droid MAXX's battery) and can be upgraded to an optional 2100 mAh battery (64% capacity of Droid MAXX's battery). The simple fact is that 4G LTE is power hungry and a bigger battery delivers a better mobile user experience.
Droid RAZR MAXX Call Quality and Audio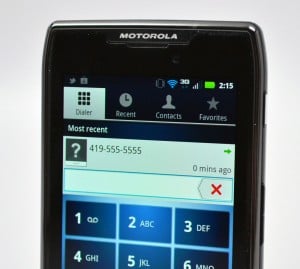 Call quality is clear on both ends and like many Motorola handsets it sounded very good. If you are connected to 4G LTE, you can surf the web while you talk on your phone. Speakerphone performance is nice, with a loud and clear call on my end, and decent sound quality on the recipient's end.
The single speaker on the back of the RAZR MAXX is impressively loud. I was able to listen to Pandora while taking a shower, an activity that drowns out most smartphones.
After using the Samsung Galaxy Nexus, which is the quietest phone I've used, it's nice to have a phone that can be heard while sharing a funny video in a crowded restaurant.
Droid RAZR MAXX Cameras
The RAZR MAXX uses the same cameras found in the original Droid RAZR, which means you can expect the same so-so images shot indoors, and decent outdoor shots.
The camera app allows you to tap to focus on a specific section of the viewfinder and in practice this worked well. The shutter speed isn't as fast as the Galaxy Nexus, but it proved fast enough to catch the faces of our puppies, which is hard for many smartphones to do.
The Droid RAZR MAXX has an OK camcorder function, complete with image stabilization. The videos aren't going to show up in a feature film, but they are good enough for posting to YouTube.
The front facing camera is 1.3MP and performs decently in well-lit environments. A short video chat in Google Hangouts proved clear enough for use, but faces are fuzzy.
Software and Apps
The Droid RAZR MAXX ships with Android 2.3.5, Gingerbread, which is the most popular operating system on Android phones right now. Motorola has promised an upgrade to Android 4.0, Ice Cream Sandwich, in the coming weeks or months. For most users Android 2.3.5 is good enough for now, and the upgrade to Ice Cream Sandwich will provide the latest Android experience in the near future.
A number of apps come pre-installed, and you can't always remove them from the phone. They aren't all bloat, though. Motorola included some great apps like Netflix, QuickOffice and SmartActions.
SmartActions is a cool app that allows you to have your phone change settings depending on your location or other variables.You can read more about SmartActions in our original review of the Droid RAZR.
There are 11 triggers or activation queues such as location, timeframe, Wi-Fi connection, battery level, missed calls, and even motion detection. The 15 actions cover most basic functions, like turning on GPS or Airplane Mode, launching apps, changing the default ringtone, and even sending a text.

One of the first Smart Actions I created was an alarm. It might seem too simple, but consider this: when you're at home you wake up a certain time on weekdays. But if you're on vacation, you don't need to get up at 6am, necessarily. I've forgotten to turn off my alarms on vacation plenty of times with unpleasant results. But with the alarm tied to a location, I can set a playlist or my local public radio station app to only play at 6am when I'm at home.
Overall there's more useful pre-installed apps on the RAZR MAXX than bloatware.
Is the Droid RAZR MAXX Worth It?'
The $299 price at Verizon, and even the $199 price at Amazon can be tough to swallow, but the Droid RAZR MAXX is worth the price. We've seen cheaper 4G LTE smartphones, but the Pantech Breakout, Samsung Stratosphere and older 4G LTE smartphones have lower build quality and shorter battery life.
As always, I recommend that you consider the total cost of owning a phone when you go out to buy a new smartphone. Saving $150 or $200 on the initial purchase of a phone is nothing when you consider that the total cost of a smartphone. Once you factor in the voice plan and the data plan over two years, you're going to be spending at least $1,680 and closer to $2,000 if you need more than 450 minutes, plan to text a lot or want to add insurance.
The up front cost of the phone is a small percentage, but you'll have the phone for two years so I suggest investing in a phone you like, instead of settling for the cheapest option on the store shelf.