The Motorola Droid RAZR boasts an 8MP rear-facing camera just like the iPhone 4S. However, as commenters here are fond of pointing out, the megapixel count is not the sole determining factor of a camera's quality, especially on a smartphone. I've seen some 1.3MP cameras take surprisingly decent pictures and some 12MP cameras I wouldn't touch with a roll of film.
How good is the Droid RAZR's camera, then? In my review I rated it a meh, mostly due to it's poor indoor performance. This weekend I decided to use the RAZR as my primary camera to see if fiddling with the settings and wringing every last drop of usefulness from the app would improve my opinion of it.
Sunday in New York City it was a little overcast, and it being autumn there wasn't much strong sunlight. I was able to get some decent outdoor shots, though.
(Click any of the pictures below to enlarge.)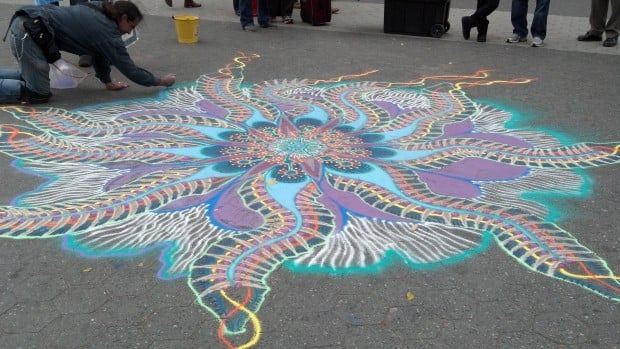 Getting up closer, you can see some of the detail on this sand painting, but not as many as I'd like.
The camera app doesn't have white balance filters like many of the other Android camera apps I've tried, so I couldn't adjust for the overcast day. There is an exposure setting. I slid it up a few notches and this was the result: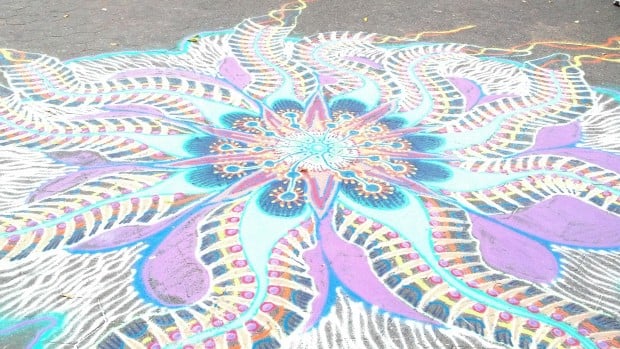 Perhaps if I were a more knowledgeable photographer I could fiddle with exposure in a more useful way.
There is a "scenes" setting in the app, with choices for Portrait, Landscape, Sport, Sunset, Night, and Macro.
I found that colors overall weren't as rich as I hoped. Turning leaves are great photo subjects, but I never quite got a shot that really pleased me color-wise. The one of the statue below is probably the closest.
 Action shots were also a challenge. remember during the iPhone 4S unveiling when Tim Cook said something like "Do you know how hard it is to get a squirell to stand still?" Pretty hard, even when you're giving them nuts.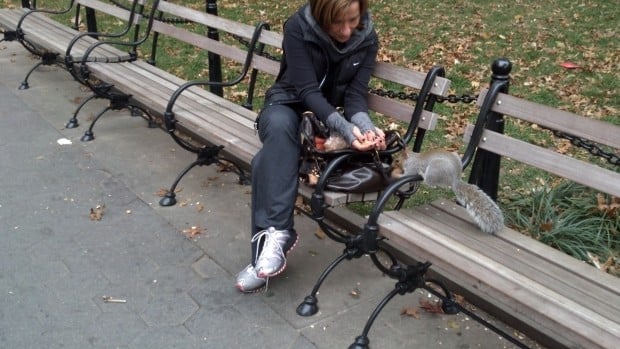 With the flash on, forget taking quick shots. It takes a few seconds to pull off the shot and a second to return you back to the shooting screen. Without the flash the RAZR responded pretty well. But even with the app in Sports mode I wasn't able to get many good shots of squirrels.
Outside the flash isn't all that necessary except at night. And forget about taking anything but close-up shots then, because the camera is not suited for outdoor night-time.
Inside is a challenge as well. If you're not in a well-lit room then you'll need the flash to see your subjects well, and even then you might not get a useful result. I went to a book signing and wanted to take shots of the authors. Since they were sitting under spot lighting the camera was not happy, even when I forced the flash to go off:
The camera had trouble giving me sharp focus as well, no matter how many times I tapped the screen.
(By the way, if you're looking for great fiction for teens, the [amazon_link id="1931520305″ target="_blank" container="" container_class="" ]wonderful books[/amazon_link] by [amazon_link id="1402260520″ target="_blank" container="" container_class="" ]the authors[/amazon_link] [amazon_link id="0375868208″ target="_blank" container="" container_class="" ]above[/amazon_link] make excellent holiday gifts. Just sayin'.)
Not surprisingly, indoor pictures with light from outside fared better.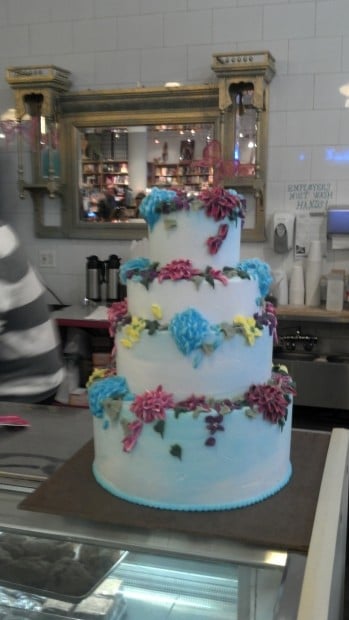 But when dealing with a mix of light and shadow, the Droid RAZR never seemed able to properly resolve that.
When I had to use the flash indoors the result wasn't usually very attractive. usually it just blew things out. And again, lack of sharpness.
How big of an issue is this? Depends on how much you use the camera on your phone. If you use it occasionally for pictures that don't matter much, this isn't such a big deal. I count myself as a casual user — not a shutterbug, but more than once or twice a week — and I would long for a better camera for those times when I take pictures of nature, turning leaves, or my favorite authors.
Read my full review of the Droid RAZR for more on the camera and sample photos and check out the iPhone 4S sample photos to compare. There are a few extra shots int he gallery as well.

As an Amazon Associate I earn from qualifying purchases.