Droid RAZR Shows Off Its Thin Design, $650 Off-Contract Price
Tomorrow is a big day in the Android community. Motorola and Verizon will be putting their latest and greatest 4G LTE concoction, the Droid RAZR, up for pre-order with a release slated for sometime before or on November 10th. And while we've gotten a pretty good look at the Droid RAZR and given you our first impressions, we wanted to share some last minute information with those of you thinking about picking one up.
We we have here are two images courtesy of Droid-Life. The first, shows off the Droid RAZR's extremely thin form factor, and gives you a tour of all of the key specifications that will be accompanying it to shelves. Chief among them are the 4.3-inch Super AMOLED Advanced display with qHD resolution and the phone's 8MP camera which is capable of shooting 1080p video.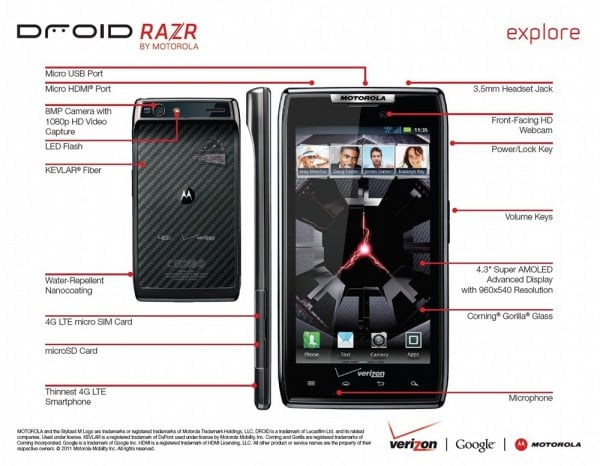 The second image is probably the most important though.
We had heard rumors of a $650 off-contract price and we had heard that it might cost somewhere in the neighborhood of $622. Well, it looks like the former has won out as you can clearly see the full retail price is $649.99.
Probably not what folks were hoping for but that's how much it's going to take to get it off-contract.
For those of you comfortable with signing the dotted line, you'll need to fork over $299 in order to get one.

As an Amazon Associate I earn from qualifying purchases.