Droid Turbo 2 First Impressions & Performance
The new Motorola Droid Turbo 2 is official with a shatterproof screen and a beautiful, customizable design. After spending time with the new Droid Turbo 2 this morning it is certainly a smartphone that can turn heads and should attract attention from buyers.
While I am partial to my iPhone 6s, the out of the box design that mixes metal and a ballistic nylon looks and feels amazing on the new Droid Turbo 2. You don't need a case on this phone to take it out for the night and you don't need a battery case either as this smartphone packs in a huge battery and quick charging.
The Droid Turbo 2 release date is October 29th. The Droid Turbo 2 is $26 a month for the 32GB model and $30 a month for the 64GB model.
Droid Turbo 2 Hands On Video
Here is a closer look at the Droid Turbo 2, including the new features that will help set it apart from the Galaxy S6, iPhone 6s and other smartphones after spending time with it this morning.
Droid Turbo 2 Display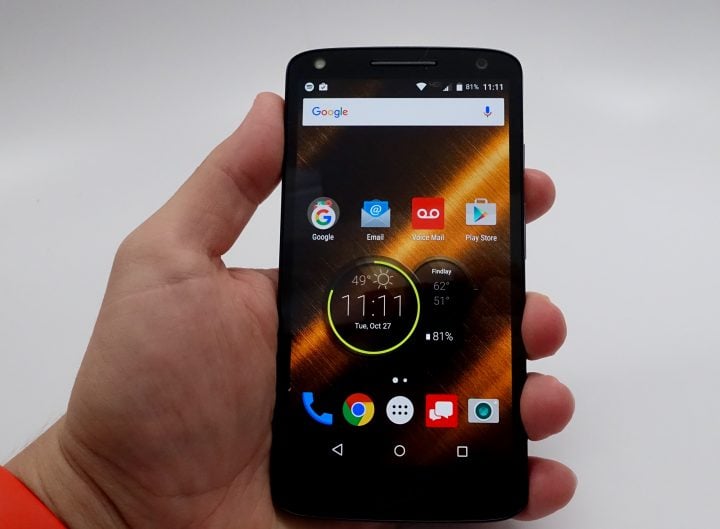 The new Droid Turbo 2 display looks simply amazing. The colors look great on the large display and blacks are deep and dark. With a screen this size, gaming and movies are certainly on tap and the screen is up to those tasks — and great for reading text on.
The 5.43-inch display features a 2,560 x 1,440 resolution and there is a new shatterproof cover on the top that will reportedly withstand major drops without the need to buy a new phone or a warranty replacement.
With the new technology in place there is a plastic screen that withstands drops better and there is a dual touch layer that adds redundancy in case one fails during a drop.
Droid Turbo 2 Design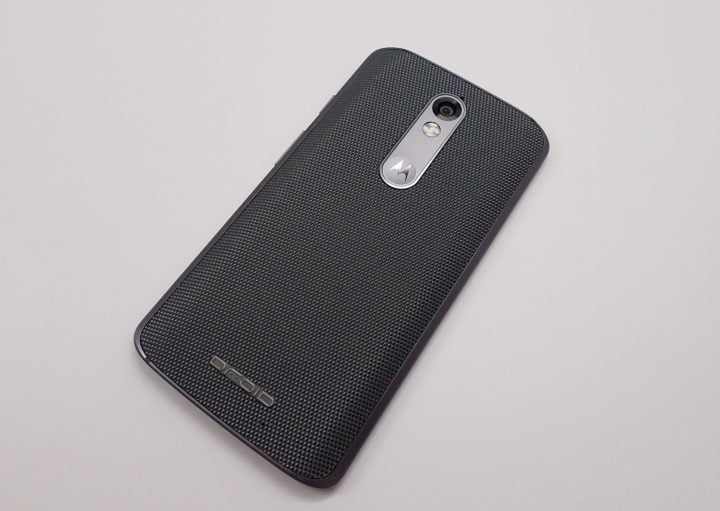 The Droid Turbo 2 I've been using features a metal body with a grey Ballistic Nylon back that looks and feels incredible. The phone is slightly bigger than the iPhone 6, but noticeably smaller than the iPhone 6 Plus. Android users can compare this to the Galaxy S6. The Droid Turbo 2 is wider than the S6, but about the same height. It is still pretty easy to use with one-hand for most tasks.
There will be options to customize the Droid Turbo 2, including with Horween leather, but after using the Ballistic Nylon option it's tough to consider another look and feel for this premium handset.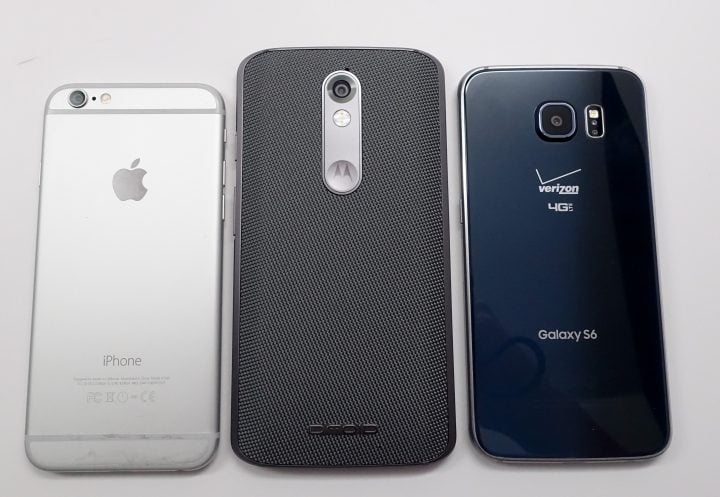 Motorola delivers a solid look and feel and with the durability options that the company promises this is an impressive phone.
Droid Turbo 2 Micro SD Card
The Droid Turbo 2 comes in 32GB and 64GB options and there is a way to add more storage to your new smartphone.
Tucked tight above the SIM card is a slot for the Micro SD card. This is on the same pull out as the SIM card so there is only one opening to deal with. You can stick up to a 128GB Micro SD card in this slot, in case you need a lot of storage.
Front Facing Speakers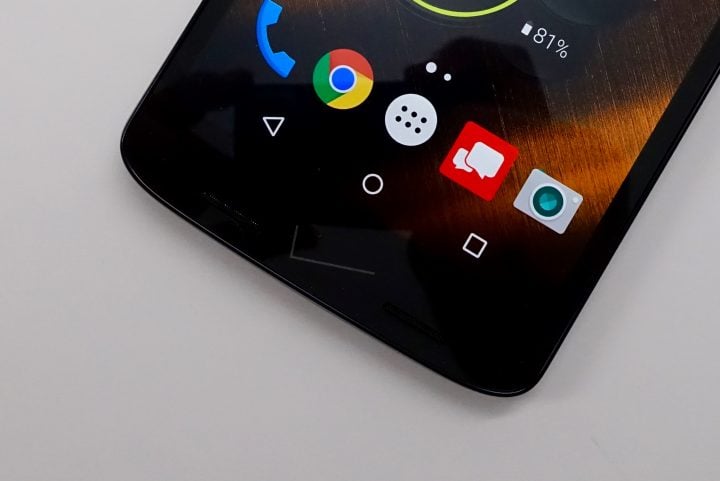 After dealing with speakers I can't hear in noisy environments like the shower, where I like to listen to audiobooks and music when I get ready, I am happy to see that the Droid Turbo 2 has two front facing speakers.
I am also happy to hear that these speakers are loud and clear enough to hear in a noisy environment. Unlike many hands on taking place at the event, I carried this phone with me all morning, and yes tested it out in the shower.
Droid Turbo 2 Cameras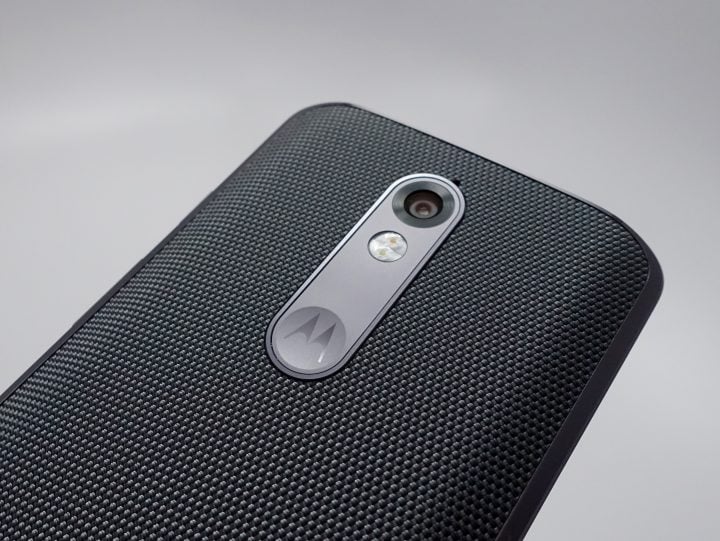 Motorola packs in a nice 21MP camera on the back of the phone and a 5MP camera on the front with a selfie flash. Users still tap the screen to take a photo, but the software seems to do a better job of focusing and snapping the photo than on older Motorola devices. As soon as you tap the screen the phone takes the photo, and it delivers impressive quality so far.
Droid Turbo 2 Apps & Software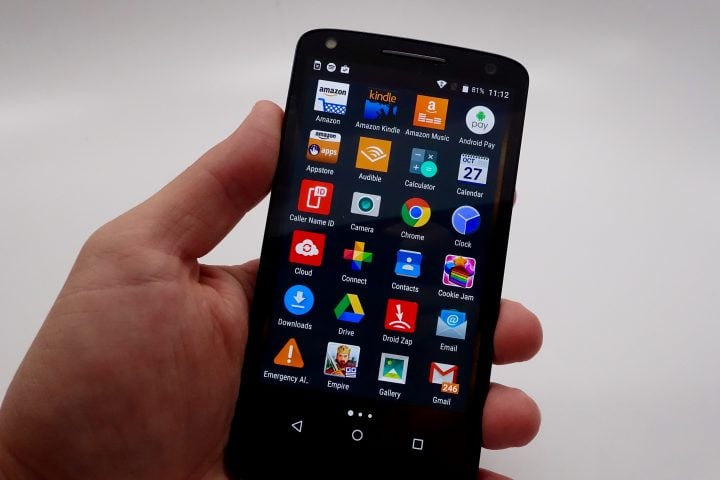 The Droid Turbo 2 runs Android 5.1.1 with a pretty stock look that we are used to from Motorola. There are a few Motorola apps and a lot of Verizon apps and games.
Motorola Connect can connect to Bluetooth devices for smart locking and unlocking. Motorola Loop connects your family and your smart home devices so you can see who is where and what devices are doing.
Verizon includes the standard collection of Verizon utilities that are useful, as well as games like Cookie Jam, Empire, Panda Pop, Sugar Smash and media apps like Slacker Radio and NFL Mobile. Amazon, Amazon Music, Amazon Kindle, the Amazon Appstore and Audible are also on the phone.
Droid Turbo 2 Performance
The Droid Turbo 2 features a fast Snapdragon 810 processor that does indeed deliver snappy performance after a
There is a 3,760 mAh battery inside the smartphone that should last 48 hours according to Motorola.The smartphone can also get 13 hours of battery life in 15 minutes of charging with the 25 W charger. There is also wireless charging built-in to the Droid Turbo 2.
I'll be taking a close look at the performance and the Droid Turbo 2 battery life in the coming days.

As an Amazon Associate I earn from qualifying purchases.