Droid XYBOARD 4G LTE Tablets Launch on Verizon
Android tablet shoppers have two new tablet options to look at today with the launch of the oddly named Motorola Droid XYBOARD tablets. Both of these new Droid tablets have Verizon 4G LTE built-in for fast connectivity.
This is the first time Verizon has extended the Droid name to tablets, which could help the tablets in the eyes of current Droid customers.
The Droid XYBOARD tablets come in two sizes, 10.1 inches and 8.2 inches. While they are separated by less than 2 inches, each tablet is designed to fill a specific need. The larger tablet is aimed at productivity and comes with a stylus, while the smaller XYBOARD is aimed at entertainment with 2.1 virtual surround sound.
The tablets run Android 3.2 Honeycomb, but Verizon is promising an update to Android 4.0 Ice Cream Sandwich.
The Droid XYBOARD tablets will be available for purchase on Verizon later this month. The tablets will require a two-year contract to get promotional pricing, a sticking point given the no contract needed iPad which is also sold on Verizon.
The Droid XYBOARD 10.1 will come in three models, 16 GB for $529.99, 32 GB for $629.99 and 64 GB for $729.99. The smaller XYBOARD 8.2 will come in two sizes,  16 GB for $429.99 and 32 GB for $529.99. The two-year contract will require a $30 a month data plan that includes 2GB of data per month.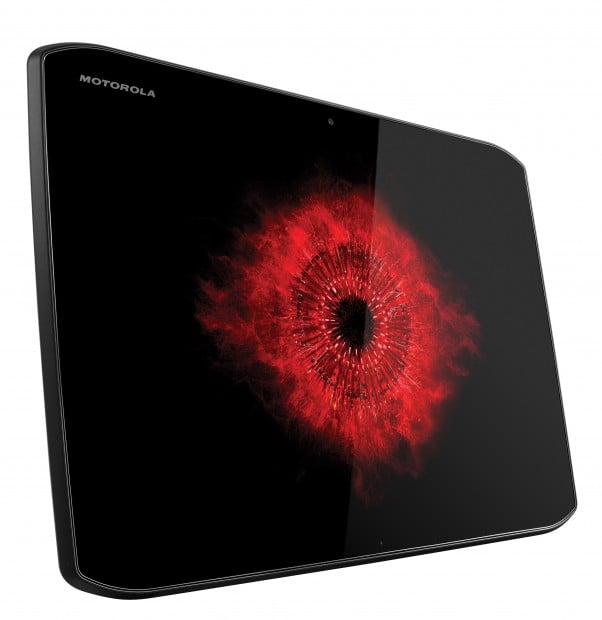 For a limited time, buyers can score $100 off the Droid XYBOARD tablet when they purchase a Droid RAZR (review) on a new two year contract. This includes the new white Droid RAZR.
Droid XYBOARD Features
10.1-inch and 8.2-inch high-definition In-Plane Switching (IPS) display for DROID XYBOARD 10.1 and DROID XYBOARD 8.2 respectively
Mobile Hotspot Capability – share 4G LTE connection with up to eight Wi-Fi-enabled devices
5-megapixel rear-facing HD cameras with digital zoom, autofocus and LED flash, optimized for capturing the moment
1.3-megapixel HD front-facing cameras perfect for video chatting with friends and family
Dijit™ app allows DROID XYBOARD tablets to double as a universal remote control with an electronic programming guide for TVs, Blu-ray Disc™ players, digital video records (DVR), and most other consumer electronics
Support for Google™ Mobile Services including Gmail™, YouTube™, Google Talk, Google Search™, Google Maps™ and access to millions of books from Google Books™
Supports a wide array of separately purchased accessories including an HD station for connecting to speakers and a larger screen, an HD dock to send content via HDMI out to HDTVs and home theater speaker systems and a stylish portfolio with Bluetooth®-enabled keyboard and mouse
Wi-Fi Connectivity (802.11 a/b/g/n)
Will you be buying a Droid XYBOARD tablet when they are released later this month?

This article may contain affiliate links. Click here for more details.