Drones Giving Mobile Network a Boost to the Future
Camera-equipped drones are often viewed as toys, but AT&T is getting real work done with a small fleet of contracted drones and pilots. The professional-grade drones are already busy inspecting large venues, such as stadiums. A team at AT&T is exploring innovative ways of using drones in the near future.
Most wireless customers don't think about what goes into making a network tick. Countless towers and bits of networking equipment dot the country, just so we can make calls and browse Facebook whenever we want. All of that equipment must be regularly inspected and maintained. That usually means workers have to climb up tall structures, putting life and limb at risk.
AT&T's Paula Doublin and her team came up with the idea of using drones to make the inspection and testing process. She recently lead a demonstration of how drones are helping with the testing and inspection processes at stadiums, which typically takes crews up to five days. The drones cut stadium inspections down to just one day and allow remote AT&T employees to see the video and data in real-time.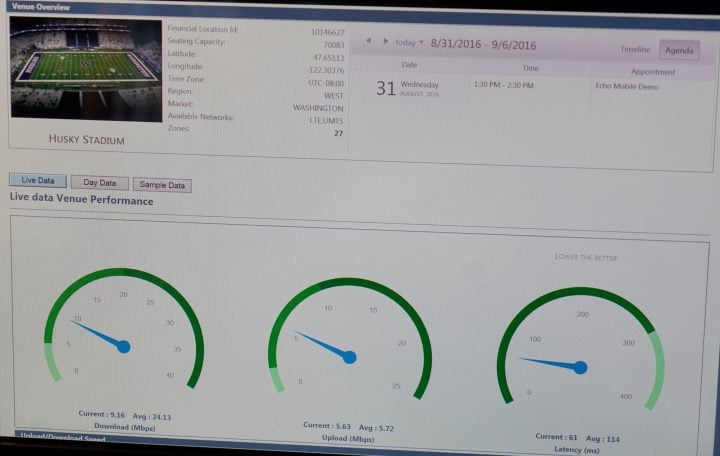 Equipped with AT&T's EchoBOT technology, the drones collect and transmit data on how its network is. From AT&T Park in San Francisco, we could see how fast AT&T customer could upload and download data at  Huskies Stadium in Seattle. Someone at an AT&T office could use this information to make adjustments during to the network without having to go through the hassle of flying to Seattle.
While drones are becoming more common, companies are still trying to figure out how to use them.  Amazon keeps teasing us with promises of drone deliveries, real estate agents use drones take photos of properties with drones, and golf clubs use drones to capture video of their courses. But as the drone market matures, we can expect to see companies like AT&T to offer more innovative scenarios. For example, Doublin said that someday AT&T could have fleets of drones that serve as flying cell sites, providing 4G LTE coverage over disaster zones.  The drones could be rapidly deployed whenever there was a big stress on AT&T's network.
For now, battery life and Federal Aviation Administration regulations are two of the biggest obstacles for any company to deploy fleets of drones. Commercial-grade drones can only stay up in the air for about 25 minutes before running out of juice and requiring a battery swap.
AT&T is currently working with five drone contractors that provide expert pilots and high quality drones. The vendors are currently choosing their own drones, most of which can carry AT&T's equipment. The drone in the video demo flying in Seattle is the DJI Matrice 600, which starts at $4,599.  The drone on display pictured above at AT&T park is the Yuneec H920, which starts at $3,599.  AT&T's contractors have also used the DJI Inspire 1, a drone that starts at $2,999.

As an Amazon Associate I earn from qualifying purchases.