Dropbox Gets a Makeover with Better Photo Viewer and File Manager
Dropbox gave their popular cloud sharing and synchronizing service's website a makeover with a slightly different look but more importantly a new photo and video viewer as well as improved file management tools.
If you have media files stored in a Dropbox folder, then you can click them and photos will open. The fill the entire screen with a slide show interface for photos. See the forward and back buttons under the image below. The file name shows in the lower left and four icons in the lower right. The buttons perform the following functions – show the original file outside the slide show, get a sharing link of the file, download the image to your computer, and delete it.
Click view original and it shows the image, not the slide show interface of the image. The media viewer supports most files you would want to see like photos, videos and PDFs.
The improved file management features include a newly designed toolbar at the top of the file list once you open a folder. It shows the file name, a button for sharing via a link, a download button, delete button, renaming button, move button and the drop down labelled "more" which has copy and previous version buttons. You get all of your tools there instead of in a drop down button at the end of the files line.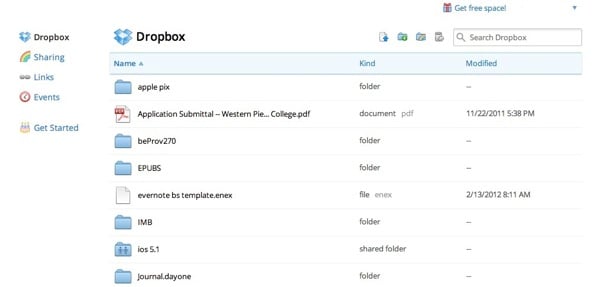 Right click a file or folder and you still get a pop-up box that has all the above features in the list.
At the top of each folder's screen you get buttons for uploading a file, adding a new folder, sharing the folder, showing deleted files and searching your Dropbox account. The search features, which was just added, will be a help to those who have a lot of files in their Dropbox folder. Start typing and it instantly starts showing files that relate to that search string. It works well.
Along the left you also get buttons for sharing, getting a link to copy to email or posting, an events link that shows all your activity, and a "Get Started" button to take you to the game that shows you how to use the service and earns an extra 250MB of storage when completed.
Be sure to take part in the Get Started tutorial. If you want to spam all of your friends, then you can earn a bunch of extra storage (250MB for each new member you invite who joins).
Other new features include dragging and dropping files between folders, selection of multiple files and keyboard shortcuts.
Learn more about the features at the Dropbox Blog.