Dropbox Makes Sharing Files With Facebook Friends Easier
Dropbox, the cloud storage service, just made it a lot easier to share your files with friends on Facebook. You no longer need to know your friends' email addresses to share files with them, now you just need to friend them on Facebook.
Dropbox has added Facebook Connect to its service, so now you just need to go to the Dropbox website to share files with Facebook friends. The option works just like sending a message on Facebook. Just start typing your friend's name in the text field, select them from the drop menu, and add a message if needed.
Yes, you can still share files in Dropbox using a friend's email address, or by just sending them a link to the file or folder. All Dropbox has done is add a new way to share files.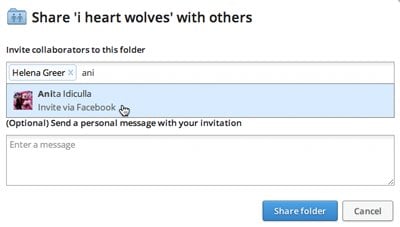 The Dropbox service is good for more than just sharing files and folders with Facebook friends. It's also a great way to keep some of your important files synced between multiple computers. Putting your files in the cloud with Dropbox is easier than carrying around a flash drive, though getting more than 2GB of Dropbox service is a bit more expensive.
Dropbox is also a great way to sync files to your iPad, smartphone, or Android tablet. There are many apps, particularly writing apps, that use Dropbox to store files so you don't have to worry about finding a way to get them off your mobile device and on a PC or Mac.
With the new Facebook, sharing it means that you can write something on your tablet or smartphone and send it to your Facebook friend quickly. You might not even need to involve your laptop or desktop in the process.

As an Amazon Associate I earn from qualifying purchases.