Dropbox Storage Pricing Receives Massive Cut
Amidst heavy competition from other cloud storage services, Dropbox has made some changes to its pricing on its storage plans, offering a 1TB plan for just $9.99 per month.
That puts Dropbox right on par with Google Drive's 1TB plan as well, but one thing to be aware of is that the 1TB plan from Dropbox will be the service's only paid plan.
Previously, Dropbox offered multiple tiers of storage space, with 100GB for $9.99 per month, 200GB for $19.99 per month, and 500GB for $49.00 per month. Now, the service has simplified its plans and will now just have a 1TB plan for $9.99 per month.
While this is a huge price cut compared to what the service used to charge, the fact that there's now only one plan could turn some users away. 1TB for $9.99 per month is a great deal, but many users don't need that much cloud storage, so a smaller tier would be better. Thus, this is why Google Drive's option for 100GB of cloud storage for just $1.99 per month is perfect for many users.
Compared to other services, Dropbox is now one of the best deals around. Amazon still charges a whopping $500 per year for 1TB of Cloud Drive storage and Microsoft is currently running a promotion for 1TB for $2.50 a month for OneDrive, but don't expect that price to last forever.
As for Apple's new iCloud Drive, which we'll see in iOS 8 and OS X Yosemite, prices will be fairly cheap as well. Users will get 5GB of storage for free, while playing $0.99 per month will get you 20GB of storage and $3.99 per month will land you 200GB of storage. There are plans to offer a 1TB option, but pricing for that hasn't been announced yet. Based on the prices of the other tiers, we could see the 1TB option cost just a little over $10 per month.
Dropbox has been one of the go-to cloud storage services as of recently, and it's the one service that essentially started the cloud storage revolution, so we sort of have Dropbox to thank for the existence of Google Drive, Box, OneDrive, Amazon Cloud Drive, iCloud Drive, etc.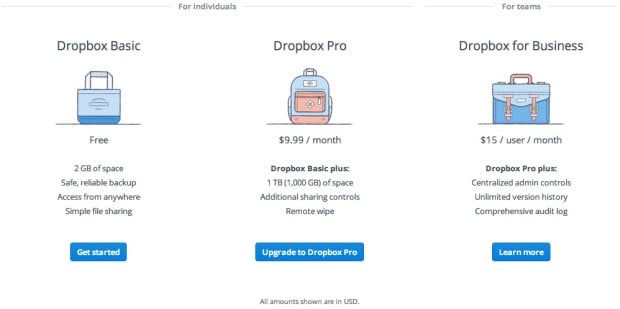 Plus, the extra features you get with Dropbox are quite unique, including automatic photo uploading from your mobile device, as well as screenshot uploading and sharing. This feature works by taking your screenshots and automatically moving them from the default save location to a "Screenshots" folder in your Dropbox. From here, you can share that screenshot instantly with anyone, because Dropbox will also automatically create a link to your screenshot and copy it to your clipboard.
The process is literally way quicker than how you've probably been doing it in the past. You've most likely had to upload a screenshot to Imgur or some other image hosting service before you could share, or you might have been dragging screenshots into the Public Dropbox folder and sharing it from there, but this time around, the process is completely automated.
The only downside that we could see from this is that if you wanted to crop or edit the screenshot before you upload it. If you always do that before sharing a screenshot, this new uploading might get in the way of your workflow, but if you're just straight sharing a raw screenshot, Dropbox's new feature is top notch.
Features like this is one reason why Dropbox is so popular, and while other cloud storage services have features of their own, Dropbox remains one of the few services that has unique features that are actually useful to our everyday productivity.

As an Amazon Associate I earn from qualifying purchases.