DropDAV Lets You Save to DropBox from iPad, Not Free Anymore
DropDAV is no longer going to be free. The service is an incredibly useful tool for saving documents from an iPad to DropBox cloud storage. DropDAV must think it is useful too, since it now costs $5 a month.
Previously this was a freemium service where users only had to pay if they used the paid version of DropBox. DropBox is also freemium with 2GB of storage being free while anything more costs extra. Now DropDAV is sadly going to be a paid service for everyone, even those of us cheapskates who were only using the free version of DropBox. Users were notified by email about the upcoming change.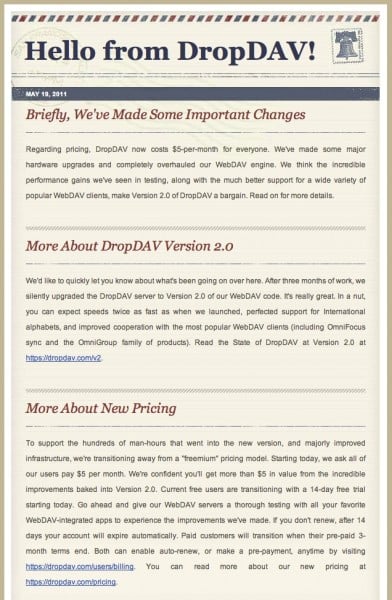 If you were a premium user, then this is not a big deal. You will still have to go log into your account and pre-pay for another time period or set it up for monthly auto-renew. For free users you get a 14-day trial period starting "on or around May 17, 2011" at which time your account will be transitioned to the two-week trial. After that it will expire unless you log into the account and provide billing info and a payment source for the monthly premium. You can also set up a prepayment for a number of months at a time.
So why the change? Here is what DropDAV wrote:
We realized pretty quickly that the "freemium" model of giving away access to some users and charging others based on usage wasn't going to work for us. DropDAV usage didn't correlate well at all with the size of users' Dropbox-es. Neither did customer support requests.

When we began work in earnest on Version 2.0 of our WebDAV code, we settled on a flat-rate pricing model and decided to delay the transition until the new version was ready. In effect, the previous version was something of a beta test while we worked out all the kinks in our system. With the many upgrades complete, we're now confident that we can reliably deliver exceptional utility to our users, in excess of the $5 monthly fee we now ask.
We will have to see if the service is popular enough to make this shift. It is probably a good time to do so with whispers of Apple offering a cloud service on the horizon. If you are not happy about the shift and want an alternative, there are a lot of apps that allow users to edit documents on the iPad and save to cloud storage services like DropBox and SugarSync.
Our favorite is Documents To Go for the iPad. It was a recent Notebooks.com iPad App of the Week. As you can see below it supports DropBox, Google Docs, Box.net, iDisk, Public Disk and SugarSync.
We have serious doubts that DropDAV will survive this shift. We don't plan to use it anymore. You can't fault a company for needing to make money, just as they can't fault users for going away if they don't think the company's previously free service is worth even $5/month. This is something Apple should have baked right into iOS from the start. Maybe a company like SugarSync, which is trying to catch DropBox can add a similar WebDAV service to their service.