Droplr Review: 100GB of Online Storage for $3 a Month
Droplr lets users easy and quickly share files between Mac, Windows and iPhone.
The new Droplr Pro accounts supercharge the service with 100GB of storage for just $3 per month.
Sadly, Droplr doesn't offer file sync, so it won't replace Dropbox, Google Drive or Sugar Sync.
Droplr makes several file sharing tasks easier and offers a couple tools the competition doesn't.
How Droplr Works
Users upload files to Droplr, called Drops. Droplr gives a link to share the file with the world. Users can upload images, audio, videos, notes, Internet links, and other kinds of files like Word documents or PDFs.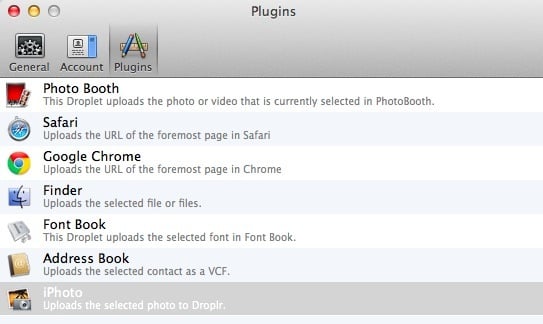 After you install the Droplr app on Mac or PC it install plugins into different apps. For example on my Mac it added plugins as follows:
Safari and Chrome – share links and shorten links
Photo Booth and iPhoto – upload images to share
Finder – share any file
Font Book – share fonts
Address Book – share contacts
You share each of these by selecting them and hitting a keystroke except in the case of your browser. In your browser the keystroke copies the link of the frontmost page. For example, if you're looking at GottaBeMobile.com and hit the keystroke, it will add a link to your Droplr account to our site, which you can then share with others.
On my Mac the default keystroke for sharing files, COMMAND+D, commonly performs other tasks. I changed it using the Preferences menu in the Menu Bar icon's drop down box. Now when I hit the COMMAND+OPTION+/ it copies the item to Droplr.
So how do you use it?
If you want to share a photo in your iPhoto app, select it and hit the keystroke. You get a link which you can then paste into Twitter, a web page or email. Maybe you want to send a document to a coworker. Select it and hit the keystroke. It uploads the file to Droplr which you can use to send an email or text message to the other person within the app on your iPhone or from the website.
You can also take screenshots with Droplr. On my Mac it replaces the built-in screenshot selection tool in Preview, so it overtakes the SHIFT+COMMAND+4 keystroke. After the app takes the screenshot it uploads it to Droplr for sharing with others.
When you open a file on Droplr's website click the plus icon in the upper left and a share menu appears offering options for Facebook, Twitter, copying to the clipboard, embedding in a website or email.
Droplr iPhone App
The iPhone app offers a simple interface that's easy to learn and use. Log in and see your drops. Tap the file icon and it opens the file to let you preview it. Tap the name and a menu of sharing options displays below the file. Here's what you can do with a file from within the Droplr app.
Copy a link
Email a link
Text a link
Post a link to Facebook or Twitter
In addition you can upload files from your phone. You can upload the last photo you took and other photos and videos from the camera roll. You can also copy a link from another app and then open the Droplr app and hit the plus button to reveal the menu. One of the items on the menu says Shorten link, which then takes your last URL and shortens it for posting on Twitter. Finally, you can compose a note and it will upload as a drop.
Droplr Apps
I tested the iPhone app and the Mac client, but they also offer one for Windows that works like the Mac app. You can find the various apps in the following locations:
Droplr doesn't offer iPad, Android or other mobile phone apps yet.
Value and Recommendation
The service offers a simple and easy to use workflow for sharing all kinds of files. With 100GB I wish it also offered a sync tool, like Dropbox, Google Drive or SugarSync. Even without that capability its useful and I'll will keep using the free service at least. I might even get the 100GB pro account for $3/month or $36/year if I use up my 1GB of free storage. Before upgrading keep in mind that the largest file size for the pro account is a 1GB file, so no uploading huge movies.
All the apps come free and the service offers a tiny ad in the lower left corner of the webpage, which I don't mind. That ad goes away when you get a pro account. The 1GB will likely offer plenty of storage for the average user. Droplr wants people who offer up a lot of content online to use the 100GB plan. You'll have to decide which account to get, but I strongly recommend trying out the free version.


As an Amazon Associate I earn from qualifying purchases.