DualCor cPC: A Long Time Birthing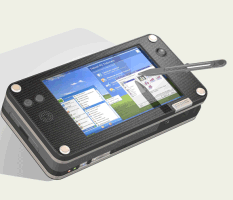 I'm not sure what is more intriguing, the DualCor cPC as a mobile device itself, or its long and winding journey to customers' hands. No question this is one of the more interesting sounding devices I've heard about in awhile, with its dual operating systems. But we've heard some interesting back and forth on some key decisions and Judie at The Gadgeteer, has a post that continues to both shed new light and also muddy the waters. When news first broke about the DualCor cPC it was followed later with word that the focus was going to be on enterprise and government customers (which makes some sense given that hefty price tag) but now it seems there will be a consumer target as well. No problems there with that dual focus for the DualCor.
Secondly, we've heard that for flexibility reasons there would not be any included radio solutions (EVDO, WiFi, Bluetooth, etc…) embedded in the device. The rationale for this was that based on marketing data a conclusion was reached that the Enterprise customers wanted flexibility and not to be tied to any one carrier. Now, as The Gadgeteer reports, there will be WiFi and Bluetooth embedded in future shipping versions that once again are 90–120 days off.
Again, nothing wrong with that news, but it sure has, and continues to be, an intriguing journey to follow DualCor's back and forth on some of these key decisions.Who knows what we'll see (and when we'll see it) when the DualCor cPC finally ships?
Hat tip to jkonTheRun