Duke Nukem 2 for iPhone & iPad Celebrates 20 Years of Duke
Duke Nukem 2 first came to the PC 20 years ago, and today the side-scrolling shooter is available for the iPhone and iPad.
The iOS release of Duke Nukem 2 features the same "insane VGA graphics" as the original game, using the high-resolution versions of the original sprites instead of redesigning the game with new artwork. Those sprites boast 256 total colors reminiscent of the limitations of computers at its original release.
The game lets players shoot through 32 levels worth of aliens with more than three guns. As expected with a port of a classic game, Duke Nukem 2 uses virtual buttons consisting of a virtual joystick and two buttons: jump and shoot. The side-scrolling nature of the game should make those controls relatively easy to use, however.
While much of the game is the same as the first release, the iOS version des include some new art for players to unlock as they play the game. The list of game features calls the new artwork and new music "brutal," which seems to mean they show Duke holding a variety of weapons.
While later Duke Nukem games brought the game into 3D, the first two games were side-scrolling adventures that were a bit less raunchy than later ones.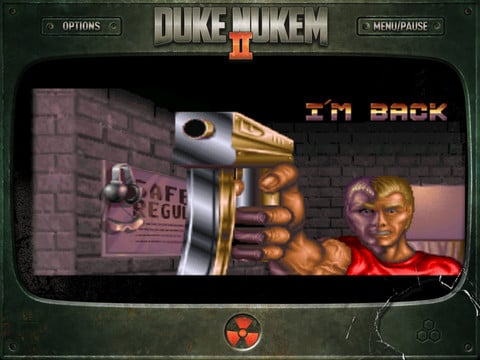 It's hard to imagine a few scenes from later Duke games surviving Apple's review process, but Duke Nukem 2 is all about shooting aliens in the face, which everyone can agree is just good, wholesome fun. Duke will make a few crude remarks, but according to Apple this game is suitable for anyone age nine or above.
Duke Nukem 2 is available now in the iOS App Store for $1.99. The game is universal, and will work on any recent iOS device including the iPhone 4S, iPhone 5, recent iPads, recent iPod touch models and the iPad mini.
The game joins Duke Nukem 3D, which currently retails fo r $0.99 in the iOS App Store, offering a more recent Duke Nukem gaming experience, albiet one meant for older gamers.

As an Amazon Associate I earn from qualifying purchases.