Dungeon Hunter 5 Update for iPhone Brings Crafting & More
With the Dungeon Hunter 5 update rolling out today, players are in for an even more well-rounded, detail oriented gaming experience. That updated experience includes new missions, more story and a huge crafting upgrade that'll have anyone diving back into the game.
Video game developer Gameloft announced the new Dungeon Hunter 5 update this morning in a press release and it's now flowing out to users who own an Apple iPhone or iPad. Soon it'll be available on Android and Windows.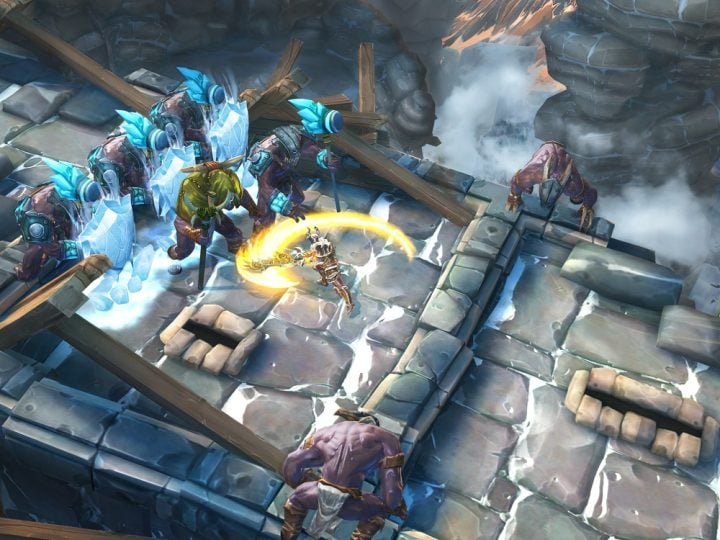 Gameloft is calling the upgrade Dungeon Hunter 5: Northern Storm and it contains plenty that has to be seen to appreciated. Games of Dungeon Hunter 5's elk routinely drop items that users can then pick up and turn into other things. Now Dungeon Hunter 5 players can do that too. When users kill an enemy they're left with an item to pick up. With the right mix of items users can create what Gameloft describes as "trinkets." Characters created in the game can have three of these trinkets on them at one time to change gameplay and boost stats. The developer is promising waves of enemies to drop these new ingredients and get users well on their way to crafting.
Perhaps more than anything else, Dungeon Hunter 5 is known for its rather impressive story mode. When users ran out of story mode content they previously had to try their hand at something else, like raiding other user's dungeons for fun and glory. Today's Dungeon Hunter 5 update adds a new area called the Valen Outpost free of charge. Here there are more story missions to complete and something new to experience for fans.
In Dungeon Hunter 5 players can customize their character with weapons, armor and extras. Getting to the end of a new dungeon in Dungeon Hunter 5 rewards users with Kenashi tickets. These tickets can be used on power-ups. In total there are 9 new pieces of armor and weapons to choose from.
A new trailer for the Dungeon Hunter 5 update released today shows off all the new extras that players can expect. Again, this update is free of charge to anyone and everyone with Dungeon Hunter 5, as is the base game itself. Many of Gameloft's titles are available to users absolutely free, but include in-app purchases so that users can afford the very, high-end gear and extras. To be clear, these high-end extras aren't necessarily needed to complete the story mode, but they do give players a leg up.
Read: Dungeon Hunter 5 Review
Gameloft first showed off Dungeon Hunter 5 back in February before its March release date. Dungeon Hunter 5 focuses on letting players recreate the detailed, action oriented gameplay of console role-playing game on their smartphone or tablet. Though we appreciated the graphics a ton in our review, it was Gameloft's decision to stick to a decent story mode that stuck with us the most.
Having been betrayed by a member of their own Guild, players set out to avenge deaths and put together their own impressive team. They explore different locations, picking up items and taking on more enemies to built your inventory and rank. Dungeon Hunter 5's multiplayer lets users create their own strongholds that other players can then invade to snatch up extras for themselves.
Read: Dungeon Hunter 5 Tips
All told, this seems like a pretty hefty update. At the very least users who already played the game in the past should try out the new content and extras.
Though Gameloft has confirmed the Dungeon Hunter 5 update is coming for all platforms, it hasn't provided more details about when the update will launch for Android and Windows users beyond "soon". The Windows version of the game offers Xbox Live achievements.

This article may contain affiliate links. Click here for more details.