Duracell Powermat GoPower Review
Duracell Powermat's GoPower is an external battery pack that can work as a standalone solution to charge any of your USB-powered gadgets or one that integrates with a PowerSnap Kit. The GoPower is available in three different configurations, depending on how much added power you'll need on the road. At the basic, a GoPower Day Trip($60) provides 1850 mAh of additional charge time. A mid-sized GoPower Overnighter ($80) packs in 4400 mAh of battery power. The most robust GoPower battery is the Long Haul, which Duracell Powermat markets as good for multi-day use, comes with a whopping 8800 mAh battery.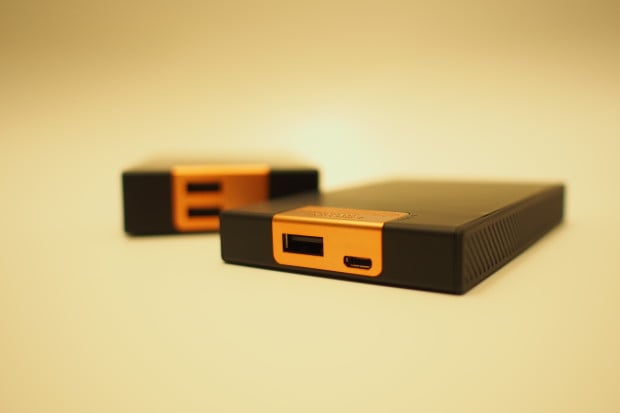 The Long Haul comes with two USB ports so I can simultaneously charge two of my gadgets at the same time, whether they be phones, cameras, tablets, or any other battery-powered devices that can charge over USB. The Day Trip, on the other hand, comes with two pull-out cables that are affixed to the battery pack itself, with one cable being a Lightning cable and the second a micro USB. And then the mid-range Overnighter comes with a single USB port.
Video Review
This inclusive system is convenient as it doesn't require you packing your own cables with you to charge your gadgets, though you may still need a cable to charge the Day Trip itself.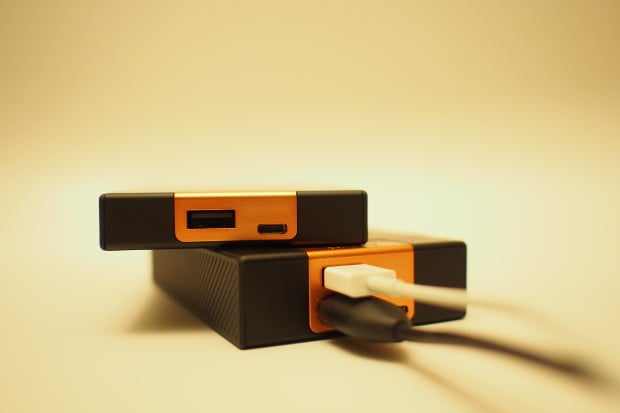 For review, we got the GoPower Long Haul and Overnighter in for testing. With these units, the GoPower sport a rectangular brick-lick design with a matte black plastic casing. On the front end, where the USB ports are located, you'll find Duracell's signature "Copper Top" color scheme, which serves a dual purpose. The Copper Top is a button that you can press, and there are four LED lights on the right top side that light up to indicate how much power is remaining in the battery itself–if no lights come on, then you'll need to recharge your fully depleted GoPower.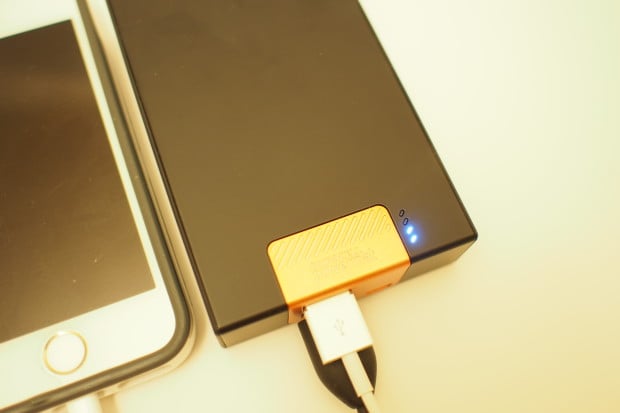 On the front side, you'll find two full sized USB ports to plug your cables in. A smaller micro USB port is also situated here so that you can charge your GoPower battery via micro USB, similar to other traditional universal battery solutions. However, as no wall charger is included in the box, you'll need to reuse your phone's wall charger if you go this route of recharging your GoPower.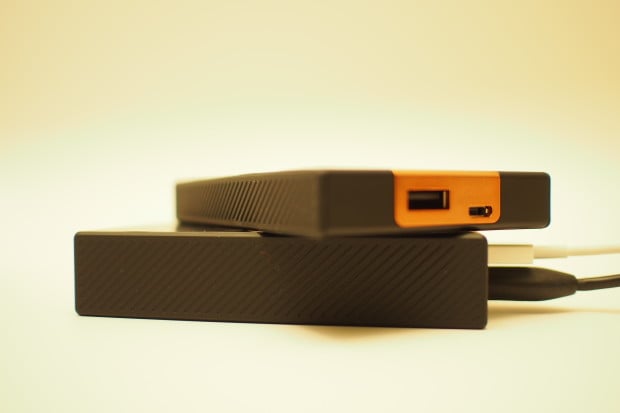 A second way, which is convenient especially if you already have a PowerSnap Kit, is to use the Powermat wireless charger to recharge your GoPower.
Powermat uses a different magnetic inductive charging technology than the Qi chargers that are employed by Nokia, Google on the Nexus line, and others are using on the market today, so the GoPower will not work with those Qi-powered wireless chargers. However, if you do have a Duracell Powermat wireless charging pad, all you would need to do is drop the GoPower on top of the PowerMat wireless charger.
Use
As I often carry either a backpack or a briefcase with me wherever I go, the way I use the GoPower is that I would place my iPhone 5 outfitted with a PowerSnap Kit on a Duracell PowerMat wireless charger that can accommodate wireless charging of two devices at the same time. Overnight, my iPhone 5, along with the battery case, would be charged overnight, and then on the side, I could place a GoPower battery to simultaneously charge alongside my phone.
I typically use a lot of power in my daily routine, often requiring two or three charges of my phone throughout the day depending on how long I am out of the office, and how often I am using my phone for GPS, emails, text messages, or photos and videos. As such, I usually keep the GoPower Long Haul charged with me, as I don't mind the slightly thicker size and added weight since I am getting 8800 mAh of extra power.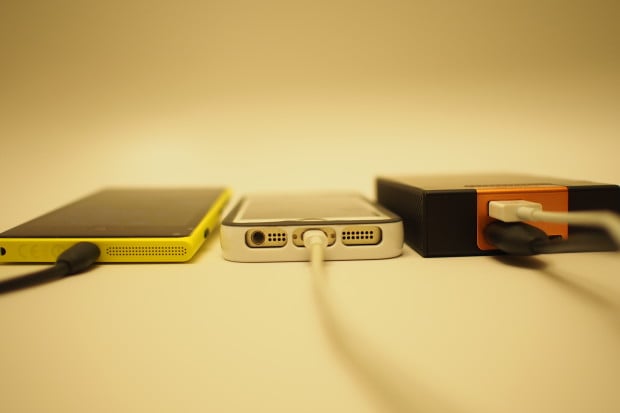 To put that in perspective, the iPhone 5s alone has a 1440 mAh battery, which means that the Long Haul can charge the iPhone 5s fully a little over 6 times whereas the Day Trip, with its 1850 mAh battery can fully charge the iPhone 5s a little more than once. An iPad Air has a battery capacity approximately 8800 mAh so the Long Haul can about fully charge the iPad Air from depleted battery to having a full charge and drain the Long Haul.
When I travel with a GoPower, I essentially pack a micro USB cable as well as a wall charger to charge the GoPower (as I don't bring the PowerMat wireless charging plate with me), the GoPower battery itself, and micro USB and Lightning cables to charge my gadgets. It's not the most elegant setup as I still have to carry a lot of wires with me still, but when I am away from a wall outlet and my phone is dead, the GoPower provides plenty of juice to keep me going.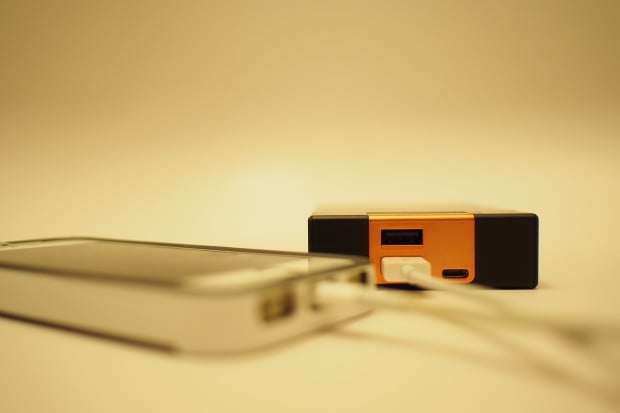 There is also another side benefit for using the GoPower battery and charging through the GoPower battery whenever you can. Most smartphones on the market–with the exception of a few older Motorola Droid smartphones–ship with a wall charger that can only charge a single USB devices. If you want to charge two devices at the same time, you'll need to occupy two wall plugs. Now, with the Long Haul, I can just plug the GoPower battery into one wall plug, and from the Long Haul I can charge two phones simultaneously without wasting or sacrificing a secondary wall plug.
Conclusion
The GoPower is competitively priced with other universal battery power solutions. For example, the Mophie powerstation XL, which comes with a slightly larger 12000 mAh battery, retails for $130. However, the advantage of the GoPower is the tight integration into Powermat's and Duracell's wireless charging ecosystem as the battery can also be wirelessly recharged on a PowerMat wireless charger. This is a nice benefit if you already have bought into the PowerMat ecosystem through wireless charging cases and shells.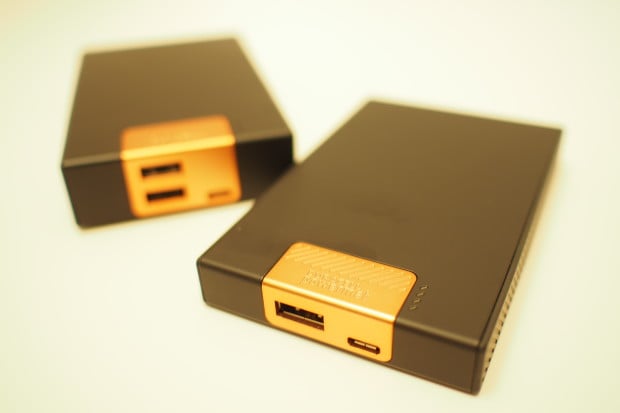 The downside is that to keep costs at bay, the GoPower isn't itself a wireless charger for your phone. What I would have liked to see Duracell come out with is a universal battery pack with features similar to the existing GoPwer, but with the added ability to also wirelessly recharge a phone if you already have a compatible Duracell-branded case for your phone. For example, if I have the PowerSnap Kit from Duracell to turn my iPhone 5 or iPhone 5s into a device that can wirelessly recharge using Powermat's technology, I would love the ability to just set the phone on top of the GoPower and wirelessly recharge that way on the go, with the USB ports serving as backups for other devices that aren't Powermat-compatible.
Still, with an understated design, the GoPower offers a lot of versatility to travelers and those who may have range anxiety. Given that modern smartphones are capable of doing so much, the GoPower will enable you to do more longer while being away from a power outlet. And unlike fitted battery cases, you don't need to always keep it attached to your phone, so your phone won't gain any added bulk.

As an Amazon Associate I earn from qualifying purchases.