E Ink Triton Brings Color to E-Readers, But Is It Ready for Primetime?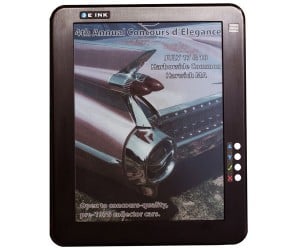 There are a number of screen display alternatives to LCD that is vying for the limelight, including Pixel Qi and Mirasol, both of which promises video, color, and sunlight readability in addition to long battery life when compared to LCD. In addition, there's also E Ink Holdings, which is responsible for the E Ink screen technology found in today's popular readers like Amazon's Kindle and Barnes & Noble's nook, which is bringing a color version of its E Ink display called the E Ink Triton.
The company is highlighting all the features that made the monochromatic E Ink display, otherwise known as grayscale, so popular, including long battery life between recharges, outdoors readability, and less eye fatigue when compared to reading on an LCD panel.
The E Ink Triton design leverages the patented two pigment capsule platform found in millions of E Ink enabled eBooks. This technology offers unparalleled image stability; pictures and text can be maintained on the screen even when the power is turned off. With this proven bi-stable technology, devices using E Ink Imaging Film have demonstrated both long life and high reliability, leading to the development of a whole new class of consumer products over the past few years.
Additionally, supporting "thousands of colors" and "16 levels of grayscale," E Ink Triton is said to lend itself to a "paper-like experience." Additionally, it is said to offer faster page refresh rates as well.
However, the problem with E Ink, compared to emerging technologies like Qualcomm's Mirasol display tech and Pixel Qi is that colors seem to be a bit more washed out according to early reviews of the technology. Moreover, the displays, while offering a faster refresh rate, is still not fast enough for videos unlike LCD, Pixel Qi, and Mirasol. According to the New York Times, "However, the new color E Ink display, while an important technological breakthrough, is not as sharp and colorful as LCD. Unlike an LCD screen, the colors are muted, as if one were looking at a faded color photograph. In addition, E Ink cannot handle full-motion video. At best, it can show simple animations."
For its part, leading e-book seller Amazon says it plans on bringing color to the market as well through its Kindle line, but will wait until color technologies mature.
E Ink released news of its new Triton display following Chinese firm Hanvon had announced that it will be bringing a 10-inch color E Ink e-reader to the Chinese market by the end of the year for about $440.
In the U.S., bookseller Barnes & Noble is experimenting with color as well with the recent introduction of the nook color, which eschews an E Ink display in favor of a color LCD screen. The nook-maker is hoping to leverage the capabilities of tablets and the underlying Android operating system and touch-based user experience to add value to reading, including animations, videos, colors, photos, and audio capabilities to capture the youth and children market. While the original E Ink nook may still remain the company's flagship product, its new color cousin aims to exploit new multimedia capabilities and technologies that will make reading more interactive and add value beyond a paper book.

This article may contain affiliate links. Click here for more details.