EA Access Gets Xbox One Gamers Madden NFL 25 & More for $4.99 A Month
Today, if you want any of the titles Electronic Arts develops for consoles like the Xbox One, you need to purchase the game new at around $60, wait for it to drop in price when the next edition arrives, or possibly buy it used. Today, Electronic Arts revealed EA Access, a new subscription service designed to make sure that users get editions of Madden NFL, FIFA and even Peggle 2 for just $4.99 a month. Unfortunately, it'll only be available on Xbox One.
Electronic Arts revealed EA Access earlier today, according to IGN. When the program kicks off its beta testing period $4.99 a month will get users FIFA 14, Madden NFL 25, Peggle 2 and Battlefield 4, with more games coming at some point in the future. EA Access users won't just get full copies of their favorite games; they'll also get access to all the digital content associated with that particular game. So for example, any add-ons for games users have downloaded through EA Access will be available along with the game.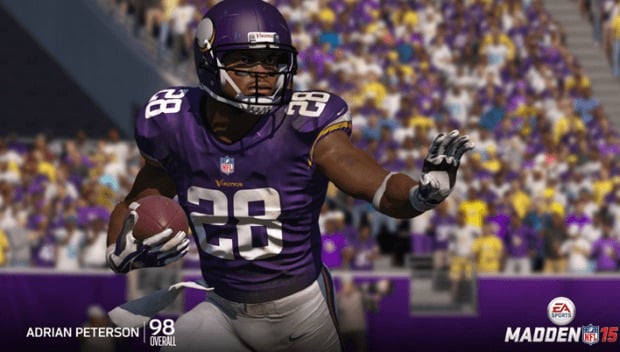 This alone would be enough to make EA Access worth it, but there is more. EA Access subscribers will get access to free trials a week before final versions of games arrive on the Xbox One. According to IGN, any progress earned in those games will transfer over to the final version of the game. The roster of titles getting trials before they arrive in stores already includes Madden NFL 14, NHL 15, FIFA 15, NBA Live 15 and Dragon Age: Inquisition.
When EA Access launches users will be able to purchase a subscription using the credentials they've provided to Xbox Live. Retailers that normally sell gaming cards will also offer users the opportunity to pre-pay for EA Access. At launch the game subscription service will only be available in North America and Europe.
EA Access is nothing short of brilliant. By allowing users to enjoy its back catalog, Electronic Arts is turning its back catalog into a source of monthly revenue. Brand new Madden NFL 25 would cost Xbox One owners $49.99. That discount alone would probably have users rushing to pick up an Xbox One and an EA Access pass. That subscriber's get access to multiple games a year certainly won't hurt either. A year of EA Access costs $29.99, which is still way below what its games go for brand new.
EA Access isn't just smart for Electronic Arts' bottom line or Xbox One user's wallets. It's also a good move for Microsoft. EA Access is exclusive to the Xbox One for now, so when Madden NFL 15 debuts in just a few weeks' time it'll be the only place where true sports fanatics can get the game a week earlier than everyone else. The message Microsoft is trying to send is pretty clear: users who like sports games are better off buying an Xbox One than Sony's PS4. That's a key advantage going into this fall, where Microsoft only has a handful of exclusive games.
Read: Madden NFL 15 Will Make You a Better Player
Thankfully, it doesn't look like users will be required to have a subscription to Xbox Live Gold to take advantage of EA Access. That being said, users who want to play online will definitely need to subscribe to Xbox Live Gold. Microsoft may have dropped the subscription service as a requirement for entertainment apps, but Xbox One owners still need it to play multiplayer games with other Xbox One owners over Xbox Live. Both subscription services together work out to be about $15 a month.
Don't subscribe just yet. Electronic Arts hasn't yet disclosed how long new games will take to arrive in the EA Access catalog. That means Xbox One owners shouldn't subscribe to the service hoping to rent a copy of Madden NFL 15, which launches in a couple of weeks.  So far, we ony know that they'll get a free tria. When EA provides details on availability, GottaBeMobile will pass those on to you.