EA Demos Real Racing 3 for iPhone 5
As part of the iPhone 5 presentation EA demoed Real Racing 3, the latest entry in its arcade racing series.
The Real Racing 3 demo showed off the widescreen of the new iPhone 5 and the graphics power of the new phone. The game has console-quality graphics, with realistic-looking cars and tracks. The game even has working rear-view mirrors in in the cars to show everything on the track, which sounds like a small detail, but takes a lot of processing power.
The game looks almost as good as Gran Turismo or Forza on the PlayStation 3 and Xbox 360, respectively. We hope it plays as well as those games.
Here's the first screenshot of the game from developers Firemonkeys: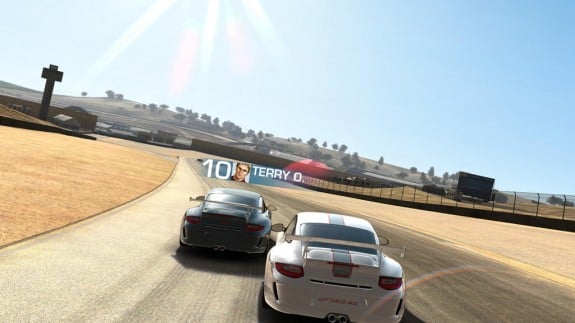 Real Racing 3, as the name suggests, features real-life cars and tracks. The studio didn't give much more detail about the cars and tracks.
The game does have a new GameCenter feature the studio called "time shifted head to head." That means players can save their race data and sent it to their GameCenter friends to race against. It's an easy way to race against friends without having to schedule a time to play.
Unfortunately EA didn't announce when the game will land in the App Store, or how much it will cost. We can say that it looks very nice on the new iPhone 5 screen, especially with the extra screen real estate available. When EA first announced Real Racing 3 it announced the game for iOS and Android.
Here's a video of the Porsche 911 GT 3 in Real Racing 3.