EA Details Madden NFL 15 Release Date, Leaves Out Why You'd Want It
Electronic Arts, the developers and publishers tasked with creating the official video game for the National Football League, have announced that users will be able to pick up Madden NFL 15 on August 26th.
EA formally announced Madden NFL 15, the follow-up to last year's Madden NFL 25 this morning. According to EA, the game will make its way to the Xbox One, Xbox 360, PS4 and PS3.
So what can users expect from Madden NFL 15 that they can't already get in today's version? Rather than add a host of new features, EA seems to have settled on trying to enhance the already pretty robust simulation systems that exist in the game. For starters, EA says users can expect "the most immersive defensive gameplay control in history."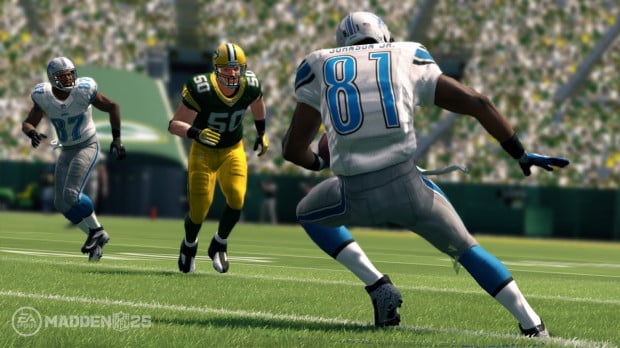 The press release doesn't go into much detail about these refreshed defense controls, but it's safe to say that longtime players can expect a slight period of adjustment after they purchase the game. There's no word yet on if any changes have been made to the way players score during offensive play.
Fitting with that "immersive theme" is a new presentation mode that EA hopes fans will find more inviting than the typical stoic angles and basic views of the field that users get today. Users will be able to see their team on the field from "dramatic" camera angles that should match what they get on television during any standard Monday Night Football presentation. The game will also be able to generate "dynamic" before game commentary and halftime shows too. That's great as most Madden 15 players will be looking for an even more accurate and life-like experience than what's available today.
The most interesting thing here isn't that Madden NFL 15 is coming a year after Madden NFL 25. That much was expected, EA has typically released new Madden titles every year. What's telling is the lack of new features EA announced for the game today.
Improved defensive play might be enough for the die-hard fans but it's hardly a headline grabbing feature. It's unlikely that getting more life-like commentary into the game will have users lining up either.
It's rather interesting that EA didn't announce any new additions that take advantage of the Xbox One or PS4's unique features. Today, the Madden NFL 25 integrates with the Xbox One's Kinect sensor. This integration allows users to refocus plays, end huddles and snap the ball without having to press a single button. Xbox One players can even call a timeout if they deem it necessary. Today's press release didn't include any information about adding more voice commands to the Xbox One version of the game.
It also didn't discuss any details about a refreshed SmartGlass experience for Xbox One players. Right now, players on defense can download the Xbox One SmartGlass app and get a history of all the plays their opponent has made so far. It's hard to think that anyone actually used the experience to repeatedly win games, but for rookies it's an opportunity to learn more about the decisions that go into a successful drive to the end zone. Hopefully, EA will use Madden 15 to introduce similar functionality on the PS4.
Unfortunately, the release of the game sounds like more bad news for the Wii U gaming console. EA didn't announce a version of the game for Nintendo's latest and great gaming console, which is a big blow considering how hard Nintendo is working to attract third-party developers Without yearly franchises like Madden the Wii U stands absolutely no hope of attracting console buyers outside of its core demographic. The hope had been that the Wii U's more powerful internals would make it more likely that customers would buy it for third-party games and Nintendo's own well received franchise like Super Smash Bros and more. Clearly, that's not the case, yet.
Madden is important because it's the defacto football game on any platform. The franchise hasn't had a legitimate rival in years. This has allowed EA to slow the game's progression and dish out a few new features each year on its own timetable. The process isn't all that similar from the way Apple updates the iPhone's hardware design.
Electronic Arts will have more information about Madden 15 to share during its press briefing at this year's Electronic Entertainment Expo in June. At least, that's what the short teaser video the company posted today hints at. That's usually where EA decides to talk more about the games it has slated for release in the summer, fall and early into the following year. Electronic Arts is teaming up with ESPN to allow fans to vote for who should be on the cover of this year's game.
Madden NFL 15 is will cost users $60 when it arrives on store shelves. Last year's version of the game, Madden NFL 25, is on stores shelves right now for $54.99 on the Xbox One and PS4 used. Typically, GameStop announces trade-in bonuses shortly before the each new title's release.

As an Amazon Associate I earn from qualifying purchases.