EA Sports Season Ticket Gets Users Madden NFL 15 Early for $19.99 [Update]
With a press release this morning, video game developer Electronic Arts is confirming that it no longer has plans to continue the EA Sports Season Ticket subscription service that let users get early copies of its sports games like Madden. That being said, the company isn't fully cancelling the program until next year leaving hard-core Madden NFL 15 fans to pick up the game for the Xbox 360 and PS3 for just $19.99.
To be clear, for this year nothing much has changed about EA Sports Season Ticket except for the price. $19.99 gets users a 20% discount on DLC, an assortment of Ultimate Team packs, and access to Madden NFL 15, NHL 15 and FIFA 15 earlier than anyone else.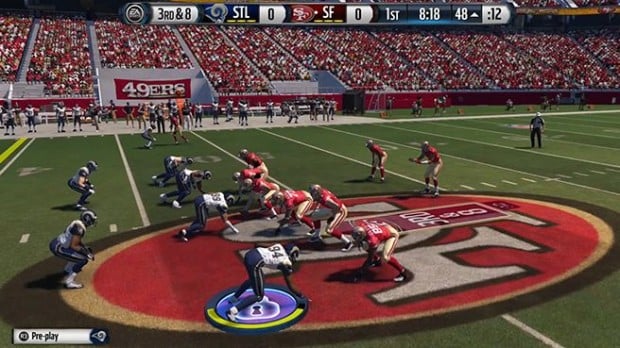 Electronic Arts introduced EA Sports Season Ticket as a way to keep hardcore fans engaged back in 2011. Since then a lot has changed. For starters, both the Xbox One and PS4 are on store shelves. EA Sports Season Ticket was a way for hard-core fans to stay engaged, but only if they were using the Xbox 360 and PS3, Electronic Arts never shared any information about making the service available on newer consoles. We now know that's because the company was working on EA Access for next-generation consoles.
Like EA Sports Season Ticket, EA Access is a gaming subscription service that also provides deep discounts for loyal users. That's about where the similarities end though. EA Sports Season Ticket focuses on sports title DLC like the 23 Pro Madden Packs, 25 NHL Premium Gold Packs and 24 FIFA Premium Gold Packs. that's roughly $105 in monetary value.
EA Access is about making all of Electronic Arts' titles available to users. So whereas EA Sports Season Ticket didn't include a single first-person shooter, EA Access gives Battlefield 4. EA Access subscribers pay $4.99 a month or $30 a year for access to Madden and FIFA. However, today EA Access only includes downloadable copies of Madden NFL 25 and FIFA 14. A trial of Madden NFL 15 is available to EA Access users, but it only last six hours total. So far, Electronic Arts has been pretty vague about how often it plans to add titles to EA Access. That's bad because it could be a very long time before we see Madden NFL 15 arrive on the service. EA Access isn't available on Sony's PS4. Users do get demo versions of titles early too.
Read: Is EA Access Worth Buying?
EA Sports Season Ticket for Xbox 360 and PS3 will be available for users to purchase through the Xbox Games Store and PlayStation Network starting August 26th and will remain available for purchase until this coming March. Electronic Arts says that it'll wrap up the service and end all EA Season Ticket activity by March of 2016. As EA Sports Season Ticket starts counting that yearly subscription service the moment users purchase it, all EA Season Ticket subscriptions should expire by then.
At that point, EA Sports Season Ticket will stop working, forcing users to purchase all of this downloadable content separately through the Xbox Games Store or the PlayStation Network. Purchasing a copy of either FIFA 15 or Madden NFL 15 costs $59.99.
Madden NFL 15 launches on August 26th. When it does users should notice a ton of changes related to defensive game play. Players will be able to choose between different kinds of tackles. Effectively, forcing them to make split second decisions about risk versus reward. Earlier today, Electronic Arts revealed that users will be able to lock over defensive plays and strategies using CoachGlass, a second screen experience for the Xbox One's iPad, iPad, Android and Windows apps.
Madden NFL 15 will be available on the Xbox 360, Xbox One, PS4 and PS3. The PS3 and Xbox 360 versions won't look as detailed as the Xbox One and PS4 versions.