Early 4G LTE Speed Tests for Verizon, AT&T Offer Mixed Results
Confirming our earlier San Francisco, California speed tests for Verizon's launched 4G LTE network against AT&T's un-announced soft-launched LTE network in the city's downtown shopping center, it appears that AT&T's LTE speeds are edging out Verizon's speeds. The result, even in its early stages, is quite impressive as we–and perhaps the rest of the geek nation–have been wowed by Verizon's 4G LTE performance, which delivers download speeds of between 5-15 Mbps and upload speeds between 6-10 Mbps.
Results from wireless analytic firm Metrico Wireless confirms our early single-spot test as Metrico tested both the HTC Vivid and the Samsung Galaxy S II Skyrocket on AT&T's network against the Motorola Droid Bionic, HTC Thunderbolt, and Samsung Droid Charge on Verizon's network. Early tests from Metrico indicated that speedtest results from AT&T edges out the competition from Verizon, noting that part of the reason is due to AT&T's network not quite yet saturated by devices and users so it has more bandwidth to give to the fewer users and devices on its network.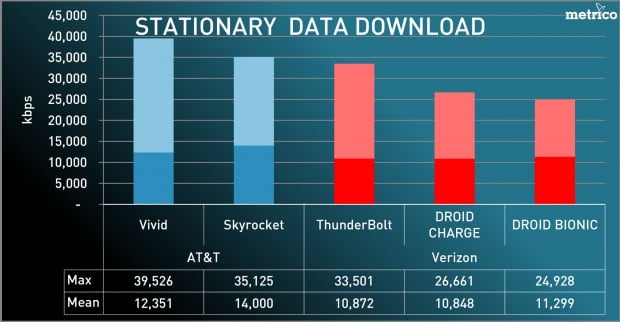 Though AT&T's results were faster on a pure speed basis, the twist is that web pages loaded faster on Verizon's network. According to Wired magazine, web pages loaded faster on all three of the smartphones on Verizon's network. The results is surprising given that only one of the three phones–the Droid Bionic–used in testing has a dual-core CPU while the remaining two are constrained by a single-core CPU while both of AT&T's newer phones are equipped with dual-core Snapdragon CPUs.
"In general, the subscriber experience is not simply driven by the network or the device, but by the combination of the two," Metrico writes in its report. "Even devices with similar specifications connected to similar network technologies still demonstrate variation in performance."
In terms of battery life on 4G LTE, when comparing the AT&T Skyrocket to the Verizon Bionic, battery life appears to be in favor of AT&T unless users primarily use their phones for voice calls. When voice call is heavily used, users will gain about 150 minutes on Verizon's Bionic when compared.
It's still too early to see how AT&T's network will perform once it adds more users and if the carrier can still edge out Verizon, which is heavily promoting its LTE network. Outside of San Francisco, it appears that LTE performance exceeded our San Francisco speed tests, with speeds on the reception handicapped Galaxy Nexus hovering in the 20 Mbps in the download range and in the 10 Mbps in the upload range in Mountain View, California, a city in the San Francisco Bay Area where AT&T does not yet offer LTE.

This article may contain affiliate links. Click here for more details.