Early Benchmarks Reveal High-End Pantech LTE Android Phone for AT&T
A Pantech device with the model number of P8010 was seen utilizing the Nenamark benchmarking service. As a result of the user who had tested the P8010 using Nenamark's tools, we now have a better understanding as to what the AT&T-bound 4G LTE Android smartphone will be packing, and unlike prior Pantech models for the U.S. market the P8010 will pack quite a bit of punch in a competitive smartphone space.
The device is now known to support AT&T's 4G LTE mobile broadband network. As the device is headed to AT&T, it would also have to support the carrier's HSPA+, GSM, and EDGE networks as well. The Android 4.0 Ice Cream Sandwich will be supporting Qualcomm's dual-core 1.5 GHz Snapdragon S4 processor.
It is speculated that the P8010 will be an AT&T variant of a Pantech IM-A830S phone model that was leaked before. The P8010 may have a qHD resolution while the IM-A830S will have a 720p HD resolution display.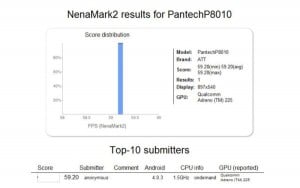 According to the Nenamark results, the P8010's performance score is around the same as that for the rumored HTC Droid Incredible 4G.
Not much else is currently known about the device. In the past, we've seen a Pantech phone with a model number P8000 pass through the FCC with support for AT&T's 3G bands, but not with LTE.
Hopefully, the Pantech P8010, if it supports LTE, will be an affordable option on AT&T. At the Consumer Electronics Show earlier this year, AT&T announced a slew of phones with 4G LTE support at very affordable price points in an effort to be more competitive against Verizon, which had a head start on LTE rollout but charges more for 4G devices.
Via: Androinica

As an Amazon Associate I earn from qualifying purchases.