Early Thoughts on iOS4. Don't Be in a Hurry to Upgrade Hardware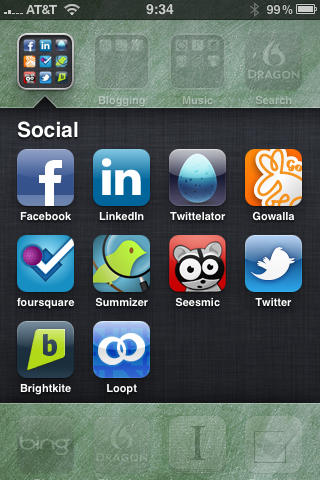 If have an iPhone 3GS and you were caught in the craziness that was iPhone 4 ordering day and didn't find yourself among the 600,000 who managed to get an order placed, I don't think you need to feel rushed into trading up on the hardware. That's after a quick look at iOS4, the new operating system that was released yesterday.
I downloaded and performed the update on the iPhone 3GS yesterday and everything in that process worked as advertised. Of course there are the usual reports of problems for some users, but in my case I didn't see any. I'm in a busy week and haven't had much time to really test out the new OS, but in using the phone the way I do normally throughout the day and evening after the upgrade, the only issue I encountered is a quicker drop in battery life.
Two of the tent pole features that I've tried out both seem to work as advertised. Folders, which allows you to group apps into folders is a nice addition and means I have less screens to thumb through when looking for an application. I gave multi-tasking a quick test using the now cliché combo of playing Pandora in the background while doing other tasks, and again that works as advertised, I'll obviously have to do some more testing on what Apple is calling multi-tasking before rendering a final verdict. That said, fast app switching seems to work very well in early use. I also notice that the camera speed is much improved when taking a picture. Almost startlingly so.
As I said, I didn't get to hammer the new features the way I usually do as I had a crazy busy day, but in using the phone as I normally do and not really noticing any real differences that altered my experience, I'd say on one hand that the upgrade was a success and on the other it is more incremental than new.
As to that battery life, I noticed that the juice drained more quickly during the day, so before I went to bed last night I charged up the phone to 100% and let it sit off the charger as I slept. Typically with the earlier OS on the 3GS, I'd see a drop of about 4% overnight. This morning, the drop was 9%. I did attempt to make sure that nothing was running in the background other than those apps that I have set to push info, but I can't guarantee that I was successful in doing so.
It's too early to tell how well the new OS will perform overall, but if you're one of those who didn't make it into the ordering cues and have a 3GS, I wouldn't feel like you're really losing out as Apple tries to get its supply chain in order. Keep in mind that some of the new OS goodies don't work with the earlier 3G phone, so this doesn't apply in that case.
Side note: I notice that Sumocat is one of those who pre-ordered who are now seeing their iPhones scheduled to arrive a day early.

As an Amazon Associate I earn from qualifying purchases.