Easier Snapping and Wallet Busting Bundles Coming in Xbox One Update
E3 2014, the large-scale conference that dominated gaming and entertainment news this entire week is winding down, but Microsoft is closing it out with news of another Xbox One update. There's not much in the way of headlining features this time around, but there is one that could make an exclusive feature of the Xbox One infinitely more useful starting this July.
Microsoft announced what users can expect in the next Xbox One update earlier today in a post on Xbox Wire that also highlighted some of the company's announcements from this week's gaming show.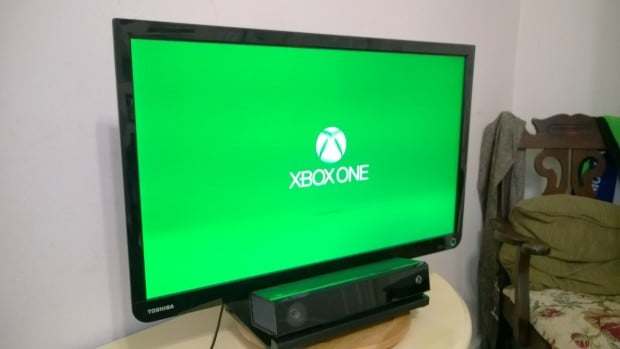 Above all else, what users should be excited for are some changes involving Snap Mode. When Microsoft originally unveiled the Xbox One, it said that the point of the console was to enable all kinds of entertainment seamlessly. To that end, the Xbox One included Snap, a way for users to play their games or watch a television show while browsing the internet or doing something else on their console at the same time.
Read: Microsoft Makes it Rain Games at E3 2014
Microsoft isn't changing the feature itself as much as it's making it way more convent for users to access it. Starting with this new Xbox One Update, users will be able to press the glowing white guide button on their controller twice to access a multitasking menu and snap an app to the left of their television screen.
This change might sound small but it's very important for a number of different reasons. For starters, Microsoft introduced the $399 Xbox One bundle earlier this week. That bundle doesn't include the Kinect 2 sensor which allowed users to snap an app to their screen with just a single voice command. By adding this new way of snapping apps Microsoft is making the Xbox One's interface more tolerable for $399 Xbox One buyers.
Almost as if it's celebrating the arrival of this new snap functionality, Microsoft is also introducing a new Achievements app that can finally be snapped to the side of users screen. In addition to multitasking the new Achievements app included in this Xbox One update will track users progress toward specific achievements and integrate with Internet Explorer so that users can find help if they need it. Again, this is a perfect showcase of what the Xbox One is uniquely able to do. Unfortunately, it doesn't appear as if the Xbox One SmartGlass app will include achievements tracking when paired with the Xbox One.
Xbox Live, the service that powers the entire Xbox experience, is getting some under-the-hood improvements that should do wonders for everyday users wallets sometime in the near future. Microsoft says it's "doing some work" to allow publishers to string together games and downloadable content for users to purchase all at the same time. Put more simply, Xbox One users can expect digital bundles to arrive in the Xbox Store. Whether they'll be as cheap and plentiful as what users of the Steam PC gaming service get isn't yet known.
Users will be able to customize their language settings following this update too. Microsoft is also continuing Xbox Live's transformation into a social network as well as a game rental service. Last month Microsoft added the ability for users to associate their real name with their Xbox Live gamertag. Now in this Xbox One Update the company says users will be able to like game clips and status updates published to their Activity Feed. Unfortunately, it's only rolling out the feature to the Xbox One SmartGlass app.
All told, this July Xbox One update sounds as if it's another solid update for the Xbox One. To date, Microsoft has added new features to the Xbox One once a month since the console arrived on store shelves last November. Whether that's translated into better sales remains unclear, but it's definitely translating into a better gaming and entertainment experience for just about everyone.

As an Amazon Associate I earn from qualifying purchases.