ecbc Poseidon Messenger K7202 for MacBook Air Review
Thanks to the battery life that users can get with the Apple MacBook Air, especially the latest models just released, we don't recommend carrying it in a big computer bag. But the ecbc Poseidon Messenger K7202 for the MacBook Air or other ultrabooks will serve as a good case for those times when users need one. It protects the computer well and includes plenty of pockets for extras that a user can carry over the shoulder comfortably.
We tested the ecbc Poseidon Messenger K7202 for a few weeks and enjoyed using it. The bag works with almost any thin ultrabook, but we used it with a 13-inch MacBook Air. An insert will let users enjoy the bag with a smaller device, like the 11-inch Air, as well.
The ecbc Poseidon Messenger K7202 Design

They designers made this bag with strong nylon. We used the black model, but they also sell them in blue, green, berry (red) and linen (light tan). They sell for $99.99 direct from ecbc.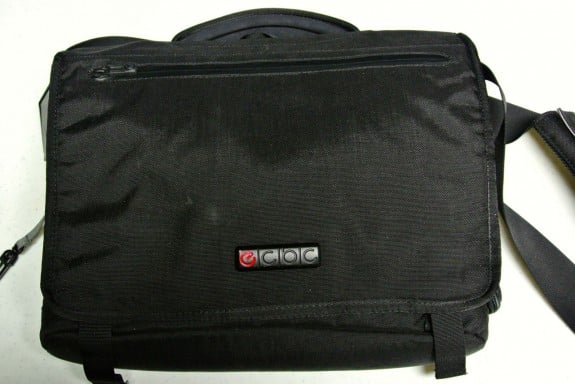 The ecbc Poseidon Messenger K7202 bag includes plenty of pockets. We get one for the computer and another for papers or a tablet. On the front there are other pockets for accessories, like a USB optical drive, mouse, pens or styli and more. Put a water bottle in one side pocket and a small cell phone in the other. The outside pocket will also fit some books or accessories.
ecbc Poseidon Messenger K7202 Not for Light Travellers
While the bag gives us tons of pockets, thicker accessories make the bag bulge and it's not as light and streamlined as we'd like. The bag doesn't fit people who just carry a computer, charger and a few things. It's designed for the road warrior traveller, with a luggage trolley handle on back. The adjustable shoulder strap feels good even with a lot of stuff packed inside.
We liked the ecbc Poseidon Messenger K7202, even though the textured nylon attracts dust and started to look dirty quickly. The velcro that holds down the flap makes it hard to open the bag. The plastic clasps and the velcro do a great job of keeping it closed, even when we want to open the bag quickly. We recommend it for travelers or professionals that carry books, important papers and a tablet. If ultrabook users want thin and light, look elsewhere, but it's our go-to bag for long trips when we want to bring the MacBook Air along.

As an Amazon Associate I earn from qualifying purchases.