Eee PC Celebrates 1 Year of Turning the Market Upside Down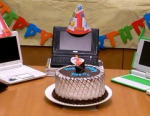 The folks at Laptop Mag threw a party for the Asus Eee PC celebrating its 1 year birthday. I've never seen a party with a cake for gadgets before. I guess that fits given that Asus turned the market upside down and into a free-for-all with the introduction of the Eee PC, giving birth to the Netbook craze. The folks at Laptop didn't just invite the EEE progeny, but also invited other netbook cousins to come along as well.
Of course Asus didn't stop with its first introduction. During that first year, Asus introduced a number of models and variants and heading into year two shows no signs of slowing down. One thing is for certain. As they clean the icing of the keyboards from the party, this has certainly been a year that Asus had an enormous impact.
Make sure you catch the birthday video.

As an Amazon Associate I earn from qualifying purchases.