eFlow Electric Bike Does the Heavy Lifting So You Don't Have to
Electric bicycles might not be a mainstream thing yet, but they very well could be, and some bicycle manufacturers are trying to spread awareness of the joy and ease of riding an electric bike. eFlow is one of those companies, and it's made a series of bicycles that aim to make it as effortless as possible to ride a bike to work or wherever your destination may be.
You'll notice right away that the bike's frame is a lot thicker than most conventional bikes out on the market, especially the downtube, which is actually where the battery is located, but don't worry, you'll still be able to adjust the seat height to a comfortable position, as the battery is actually fixed to the adjustable seat tube.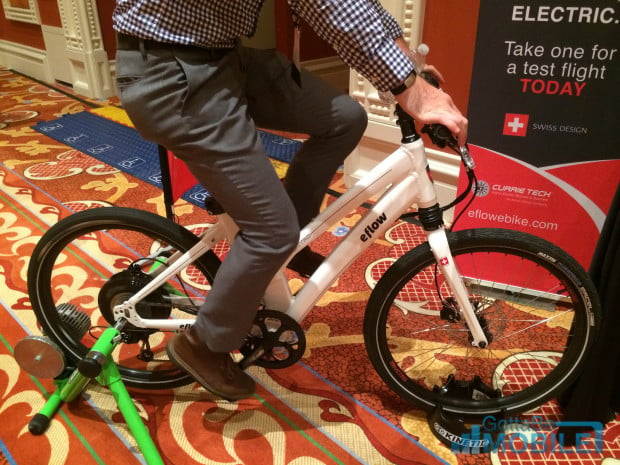 As for the actual engine that does the heavy lifting, it's located on the rear wheel as a disc that measures about 6-7 inches in diameter. While you're pedaling, the engine works a little bit to take some load off the pedals and crankarms, but if you're tired of pedaling for a couple of minutes, you can crank the throttle on the right handlegrip to give the bike some "boost".
We ended up spending a few minutes on one of the bikes, and it was fairly effortless to  get up to around 15 mph on the trainer that they had on the show floor, and cranking the boost brought the speed up to 25 mph without even pedaling.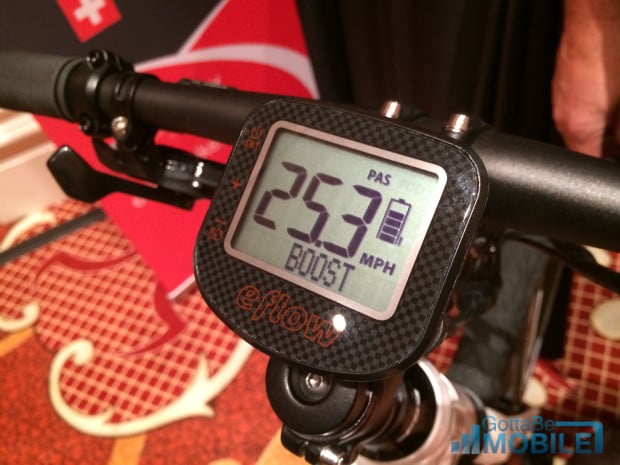 Of course, you'll have to pay a pretty penny in order to get one of these bikes. The company has three models available to buy, with the entry-level E3 Flight priced at $3,500. The Flight has a 10-speed drivetrain and can go up to 28 mph with the boost cranked. eFlow's flagship bike, the E3 Nitro will cost you $4,000, and it comes with a 20-speed drivetrain for a wider range of speeds.
There's also an E3 Fit, which is a foldable version that costs $3,500, but it's limited to 20 mph with the lower-powered battery.