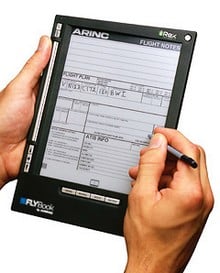 For those who like to fly the friendly skies, this looks like an intriguing Tablet PC like device. The eFlybook by ARINC not only lets you ink on the screen but contains chart technology by MyAirplane.com.
The ARINC eFlyBook eDoc viewer is a major breakthrough in display and document viewing technology. The ARINC eFlyBook is a portable electronic device that contains all of the U.S. Digital Terminal Procedures Publications (d-TPP), IFR Hi and Low Altitude Enroute Charts, U.S. Airport/Facility Directories, the FAR/AIM, and can accommodate other user-installed documents such as books, newspapers, magazines, pictures, and many others
Here are some specs (althoug I haven't found anything about the OS yet):
Interfaces

USB type A connector for USB memory stick

CF type II slot for memory extension or other applications

SD card for?memory extension

3.5mm stereo audio jack for headset

WIFI 802.11g wireless LAN

10/100MB wired LAN

System specification

8.1 inch electronic paper display (4.8″ x 6.4″)

768 x 1024 pixels

16 levels of gray

400MHz Processor

64MB Ram

256 MB memory, of which 128 MB available for content (expandable via external slots)

Touch sensor input using stylus

Rechargeable battery

Polyphonic speaker

Dimensions (WxHxD): 6.1″ wide x 8.5 high x 0.6 deep

Weight: 13.7 oz.

Operating temperature is 32°F to 122°F

Storage temperature is -4°F to 158°F

As an Amazon Associate I earn from qualifying purchases.