Egretlist turns your Evernote checklists into cool iPhone to-do lists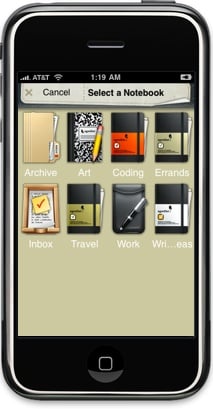 I've gone for two years without a decent checklist/to-do list app for my iPhone. Wanted something I could take lists I made on my PC, share it back and forth, not be tied to either device, and look cool. Well, my wait appears to be over thanks to Egretlist, a to-do list app that syncs with Evernote.
Evernote, we all know, is a great catch-all for notes of all flavors, but did you know you could also use it to make checklists? I didn't realize it myself until I read this entry on the Evernote Blogcast extolling the virtues of Egretlist. In the desktop and web applications of Evernote, there's an option in text notes to add checkboxes. I never caught it before because I normally just email my text and documents to Evernote without using the application. Well, next time I need a list, I'm sticking it in Evernote and putting checkboxes in it.
While these lists are accessible via the Evernote iPhone app, Egretlist builds on the basic functionality with a colorful interface designed specifically for managing to-do-lists. Not only does it pull your to-do lists from Evernote, but it also allows you to create new ones. And since it's all done through Evernote, the lists are easily accessed anywhere you're connected to the web and can even be shared through shared folders. Furthermore, if you have images clipped to a checkbox, you can see those too.
What really draws me in is how fun the app looks. By necessity, Evernote has a utilitarian design. Make it too fancy and it distracts from the data. But lists are meant to be short and sweet. I love that the developer put in the effort to make the interface attractive with a design based on a paper moleskin or dayplanner (and also made it a universal app for iPod/iPad/iPhone compatibility). I don't use to-do lists very often, but for me, $2.99 is worth it to get easy access to my Evernote lists in an artistic package, especially if the alternative is using paper. Now if only Evernote would make it possible to create checklists in ink…

This article may contain affiliate links. Click here for more details.