Electricpig Goes Hands on with the Asus T91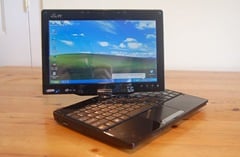 It just got released in Britain and it didn't take long for Electricpig to go hands on with the Asus Eee PC T91 Convertible Tablet PC. This hot on the heels of FCC approval here in the states. There are a  slew of pictures and some interesting comments in the post, such as the Asus Magic Desktop software ""isn't quite finished yet" and ""the screen is responsive but difficult to control with your finger." So, here's hoping Electricpig and others across the pond give us some follow up on that.
And here's a plea from an old Inker, will someone give us a look at how the T91 handles Inking? Please.

This article may contain affiliate links. Click here for more details.