Electrovaya launches new PowerPads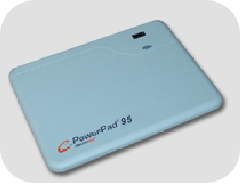 Electrovaya is well known for their long battery life Tablet PCs, but more known for their PowerPad batteries that can be used on a number of laptops, Tablet PCs, and accessories.
Yesterday, Electrovaya announced the availability of new PowerPads – the 95 and 130. Here is their press release and a link to their website for more information, and a link to their compatability list.
Electrovaya Inc. (TSX:EFL) announced today that it is launching a new series of PowerPads ® that meets the needs of not only mobile notebook computer users, but also powers such products as the IPod ®, cell phone, PDA, Blackberry ®, Palm ®, and Pocket PC. These new PowerPads ® are expected to extend the benefit to users in the mobile community who already enjoy the longer run times on their laptop computers and now can also power their other hand-held electronic devices.
The PowerPad ® 95 has an MSRP of US$199, which costs 20% less than the predecessor PowerPad 80 and has 18% more energy. The PowerPad ® 95 and 130 each have a 12 month warranty.
Compatible with almost all mobile notebook computers, the PowerPad ® series 95 and 130 are compact at only 10.6″ x 8.2″ x 0.6″ and weigh only 1.8 lbs and 2.1 lbs. respectively. The PowerPad ® 95 and 130 series deliver longer run-times, of up to 2 and 3 times respectively, than a notebook internal battery. Both the PowerPad ® 95 and 130 series have digital fuel gauges, with MSRPs of US$199 and US$299. The superior features of these PowerPads ® are expected to be ideal for healthcare, education and mobile professionals. The existing PowerPad ® 160s and 300s will continue to serve mobile users that require more energy.

As an Amazon Associate I earn from qualifying purchases.