Elegant iPad Mini 3, iPhone 6 Concepts Bring Rumors to Life
The iPad Mini 3 and iPhone 6 rumors offer hope for exciting new Apple products in 2014 and two new concepts from the man who made iPhone concepts exciting offer a look at what the current rumors suggest is on the way.
iPhone 6 rumors tell us Apple is working on a new design for 2014 with curved edges and a larger screen. There are no shortage of new iPhone 6 rumors as release date details, parts, photos and even iPhone 6 videos arrive almost daily.
iPad Mini 3 rumors are not as frequent, but we do expect a new iPad Mini Retina for 2014 with the same high-resolution screen as the current model, but with Touch ID and possibly a new design.
In a new series of images Martin Hajek shares his vision for the iPad Mini 3 and iPhone 6, based on various leaks, rumors and other information. These are not iPad Mini 3 and iPhone 6 photos, but for buyers that wonder what the new iPhone 6 and iPad Mini 3 might look like, Hajek offers a realistic look at what Apple might offer.
Stunning iPhone 6 Concepts
In this collection of iPhone 6 concepts Hajek adds some spin to the leaked iPhone 6 mock ups and schematics to show a look that is new, but still true to the iPhone look we know.
Instead of ugly lines along the back of the iPhone 6, Hajek shows a second color of aluminum or possibly glass. iPhone 6 rumors suggest the black lines are not final, and Hajek's iPhone 6 concept imagines a much nicer look for the final design.
Another update we see here is a circular dual-LED flash. The iPhone 6 mock ups and most leaks show a circular flash, and Hajek's version of this includes an Amber LED on top and a white one on the bottom, but in the circle shape that matches the iPhone 6's camera opening better.
The overall shape of this iPhone 6 concept matches the leaks with curved edges, but not an actual curved display. The edges also reflect a rounder design than the iPhone 5s.
Gorgeous iPad Mini 3 Concept
This collection of iPad Mini 3 concept images shows a design that borrows from the leaked iPhone 6 details, with similar curved edges and round corners. The iPad Mini 3 rumors do not include detailed design information yet. It is possible that Apple will stretch out the iPad Mini Retina design into a third model, but there is also reason to believe that Apple will match the overall iPhone 6 design as well.
In the iPad Mini 3 concept from Hajek we see edges that curve just like the iPhone 6. This is a change from the chamfered edges on the iPad Mini Retina and the iPhone 5s. As we don't know exactly what the iPad Mini 2014 update will look like this concept shows a comparison between an iPhone 6 inspired iPad Mini 3 and an iPad Mini 3 with the same look as the current model and Touch ID.
The most certain upgrade for the iPad Mini 3 is a Touch ID sensor. Multiple rumors point to this feature on all of Apple's mobile lineup in 2014. The iOS 8 update expands the use of this feature, which is further evidence that Apple will add it to the new iPad Mini.
The gallery above compares the iPad mini 3 with an iPhone 6 design to a less updated iPad Mini 3 design. The rounded edges are a major part of the difference, but there is also no orientation lock switch on either concept. This matches a leaked iPad Air 2 back, although that back still showed a chamfered edge.
For more on the new Apple products consumers want in 2014, check out the slideshow below, where you'll see details on the iPhone 6, iPad Mini 3, iPad Air 2 and others.
Top 7 Apple Products for 2014: iPhone 6, iPad Air 2 & More
iPhone 6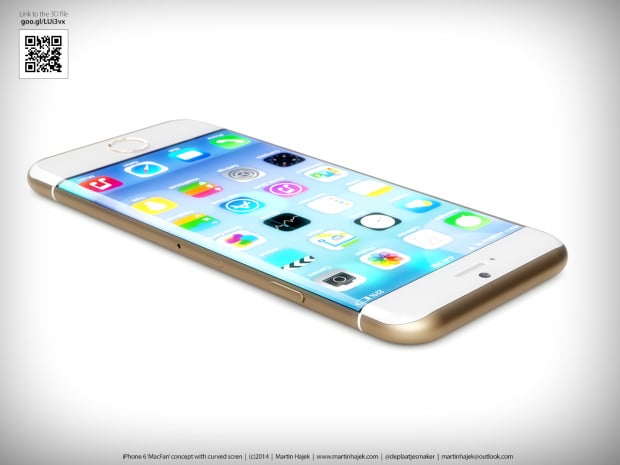 Demand for the iPhone 6 is the highest in years according to a recent survey, thanks to consumer interest in a new design and a larger screen.
iPhone 6 rumors started back in 2012, exploded in 2013 and as we move within six months of a rumored iPhone 6 release the rumors are starting to align and show a better picture of what consumers can expect from the most anticipated Apple product of 2014.

Two Models with Bigger Screens

iPhone 6 rumors, reports and analyst notes all point to an iPhone with a larger screen and many of the reports suggest Apple is planning to release two iPhone 6 models in 2014.

General consensus is Apple plans to offer an iPhone 6 with a 4.7-inch display and a higher resolution than the iPhone 5s. That is a screen size jump of .7-inch and would put the iPhone in line with top Android phones like the HTC One M8 and the Galaxy S5. Rumors do not agree on a resolution for this display, but do expect that it will be higher than the 1136 x 640 resolution on the iPhone 5s.

Another iPhone 6 model with a 5.5-inch or 5.7-inch display is also rumored for 2014, but many sources agree that it will arrive after the 4.7-inch model. This screen would be closer in size to the Galaxy Note 3 and the rumored Galaxy Note 4. This concept above from Martin Hajek includes a curved display, but don't expect that on a new device.

Possible iPhone 6 Features & Specs

Rumors suggest Apple is planning a thinner iPhone 6 that will be between 6mm and 7mm thick, a drop form 7.6mm on the iPhone 5s. We could also see more metal in the design and a power button on the right hand side with new style volume buttons on the left.

Expect an Apple A8 processor that delivers a small speed boost, but also delivers better battery life thanks to a improved efficiency. Ming-Chi Kuo believes we will see 1GB of RAM and an 8MP camera that may include some type of image stabilization.

For more check out our iPhone 6 Rumor Roundup.

As an Amazon Associate I earn from qualifying purchases.