Elevation Dock for iPhone Could Be the Best iPhone Dock Made
The Elevation Dock for iPhone, the first Kickstarter project to break the $1M mark, promises to solve a number of the annoying problems that you face with ordinary iPhone docks. The project has hit on a need of many as nearly 10,000 iPhone users really want to see this Kickstarter project produced. They've invested near $1M with just a few days left before the project gets funded. 9,190 backers pledged $993,143 at the time of this writing far surpassing the project's $75,000 goal.
The benefits of their project include the following:
The Elevation Dock works with a case on your iPhone. Most iPhone docks have a special insert that forms the dock to fit your version of the iPhone without a case. To dock your iPhone you have to either take your case off or remove the form-fitting insert. Doing the latter makes the docks a bit unstable. I use a dual charging dock to top off the batteries on the two iPhones my wife and I use and I'm always afraid I'm going to break off the dock connector inside my iPhone because I use it without the inserts so I don't have to remove our cases.
The dock also solves a second issue. When you lift your iPhone out of the dock, the dock will often come with it failing to disconnect from the 30-pin Apple Dock Connector. My dock is heavy enough and we don't have this problem, but if you do, the Elevation Dock will be heavy enough (made of aluminum) to stay on your desk or nightstand when you take your phone off. It also uses a "low friction connection" making it easier to remove. The base has "tacky rubber feet" keeping it from skidding and making it stick the flat surface it sits on.
Finally, the project founder, Casey Hopkins, promises an "obsessive attention to quality" since most iPhone docks come with cheap plastic bases and flimsy dock connectors and/or USB connections. The will make the Elevation Dock out of aircraft grade aluminum that will "feel heavy, strong, durable and look gorgeous."
The design looks like it will mimic typical aluminum Apple products like an iMac (see above), Mac Mini or MacBook. The phone will sit at an 8-degree angle, which sounds like a good fit for those using their phone for video chat.
You can fund the Elevation Dock at a price of $59 with a likely future retail price of $90. This version comes with a USB out port recessed inside the dock that you will have to insert into the dock (see below).
An advanced version called the Elevation Dock+ will cost $79 and will have a glass bead basted finish, a shielded line level audio out port and a USB adapter to plug into an AC outlet. They will retail for around $120.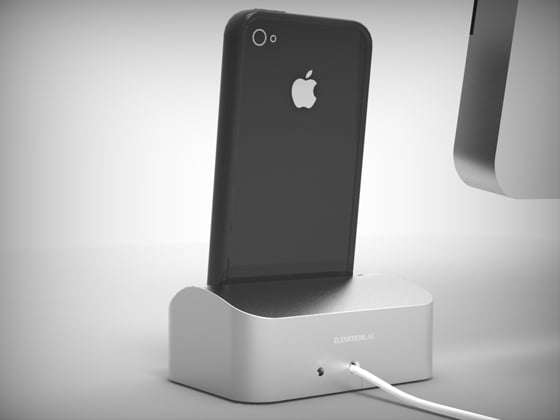 At $85 you can fund the project and get the Dock+ in anodized Matte Black finish (see the first image above). You can order more than one at a higher level or get a colored Dock+ for $150 with a laser etched serial number showing that you were an uber-backer!
Other levels include $250 for multiple docks, $500 for even more docks and $2,000, $5,000 or $10,000 gets multiple docks with retail packaging if you want to go into business selling them yourself. All combined these three higher levels actually have 9 backers with 133 choosing to back the $500 level.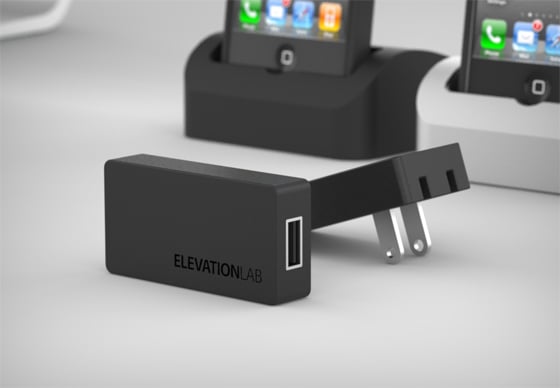 Check out the Kickstarter page yourself and join the large number of people funding the project.

As an Amazon Associate I earn from qualifying purchases.