Empires II: What Would You Risk for World Conquest, iPad Review
Empires II: What Would You Risk for World Conquest gives players the chance to dominate the world, at least on their iPad, with this fun strategy game that reminds us of Risk or Axis and Allies. This fun turn-by-turn strategy game puts the player in charge of an army from one of the major world powers. Conquer countries, and eventually continents, on the way to taking over the entire world. We liked Empires II so much that we chose to call it our GottaBeMobile iPad App of the Week.
So what makes this game worthy of our award? First, Empires II: What Would You Risk for World Conquest ($1.99) comes with a colorful and attractive user interface. It also performs well on both the larger iPad and an iPad mini. iPhone and iPod Touch users can play also for the same $2. We really like universal apps. It's challenging to see the world map on the smaller screen, however.
Here's the game's map below. The player can't see the entire world map at once.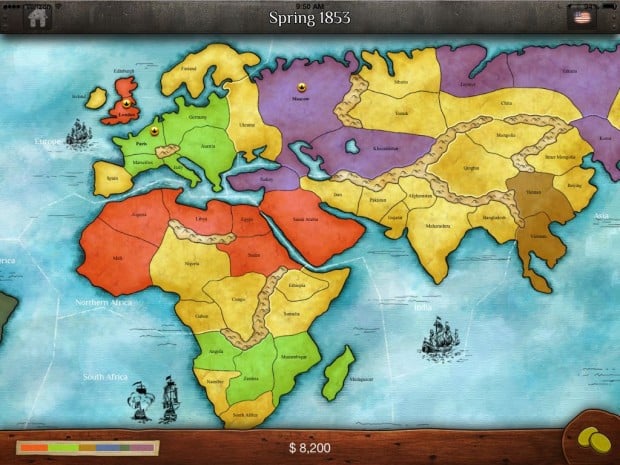 Strategy games often come with complicated instructions making them hard to pick up and play right away. Empires II strikes a nice balance between simplicity and interest. A casual gamer can grab it and learn within a few minutes how to play the game. However, the gamer can keep learning to master the game moving from the easiest to the most difficult playing levels. The AI seems simple enough at first while players learn the game. Then it becomes more difficult. Playing alone or with friends in pass-and-play mode or online mode keeps the player's interest alive.
During a turn the player receives money to spend on ships and troops (see above). Spend all that's allotted because each turn will need it. Buy a balanced number of ships and soldiers, because the player will need both in each turn. Players can only buy armies and ships from their capital.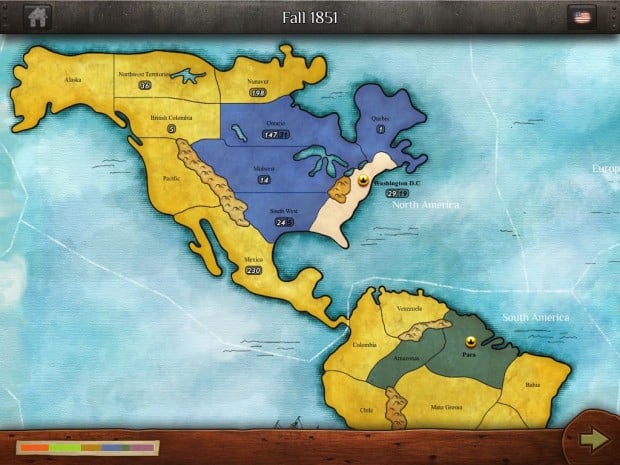 After making purchases, a player chooses how to move their troops from country to country and attack other players. The turns follow the seasons with fortification happening only in the Spring. Movements and attacking takes place in each season. Risk players will pick this concept up quickly. A tutorial explains it adequately enough (see below).
Once a player grabs an entire continent they will begin to get bonus cash each spring. However, at the easiest play level, it's hard to grab and keep an entire continent. Unlike Risk, opposing armies can attack every country on a continent's shores.
Gamers who like casual games and strategy games will enjoy Empires II: What Would You Risk for World Conquest for iPad. For only $2 and without any in-game purchases, we think it's a great value for a fun game.
We did experience one glitch. Opening the News screen takes the user to the game maker's blog. There's no way to return to the game after that, forcing the player to force quit the game and reopen it.