End Of The Month Software Specials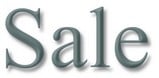 It must be the end of the month and and the end of the quarter and a few companies are probably trying to clear out some inventory, because specials on software are popping up all over. Chirs Pirillo has a list of coupon codes for software from Computer Associates and Nuance Software that expire soon. The Computer Associates codes covers their security software titles and give you 10% off. The Nuance codes give you $10 off products like Dragon Naturally Speaking, OmniPage, and PaperPort. Follow the links above to get the codes.

As an Amazon Associate I earn from qualifying purchases.