Engadget 2006 Tablet PC Of The Year Nominations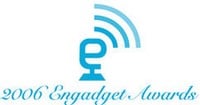 Engadget is now accepting nominations for the 2006 Tablet PC Of The Year, an annual tabulation where they accept user input. If you're interested in nominating a Tablet PC head on over and leave a comment, although the rules state that you shouldn't re-nominate a Tablet PC that has already been nominated so peruse the comments first. So far the Lenovo Thinkpad X60 and the Fujitsu P1610 look to be the favorites among those who don't read the rules. Look for voting on this soon.

As an Amazon Associate I earn from qualifying purchases.