Engadget: Current Dell XT Tablet Will Add Multi-Touch Later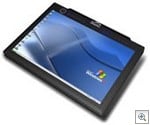 According to this article on Engadget, Dell's new and expensive XT Tablet PC will have multi-touch, just not for awhile.
From the report, current XT buyers, as well as future ones will Tablet PCs "capable" of mutli-touch once drivers and software are ready. Engadget italicized the word capable in their report, and I've put in italics and quote marks. Healthy skepticism should tell us all to be a bit wary about just what "capable" means these days. No time frame is given for when this will occur.

This article may contain affiliate links. Click here for more details.