Engadget has a Google Nexus One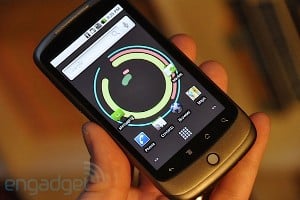 Well, here's news that should suck the wind right out of the sails of Google's Android and presumed Nexus One announcement on Monday: Engadget has their very own Google Nexus One. Yes, we've all seen photos, and specs have been posted for days, but the video of the Nexus One in action is new.
While the video is only a first-look and doesn't get into the nitty-gritty, the speed of the device is clear to see. They point out, however, the device itself is not a game-changer. It's faster than Verizon's Droid but pretty much the same otherwise. The focus of the short video are the new UI elements, such as menu switching. Its main showpiece is the live wallpaper, animated backgrounds that respond to input, such as touch. Yes, it's eye candy but more video's to come (and only a day until the Google press conference).