Enhance your Evernote experience with custom shortcuts
The How-To Geek has a wonderful write-up on how to get more out of Evernote on Windows 7 using EN's scripting system coupled with a docking app called StandaloneStack2 to neatly group shortcuts right in the taskbar. Naturally, I have an ink-based spin on the idea.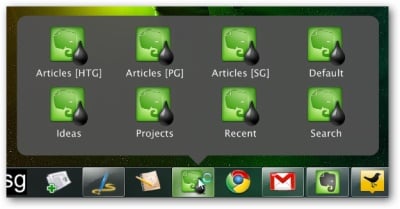 The core component of the system is Evernote's Windows scripting functionality, enabled with an executable called ENScript.exe, which has been part of the Windows installation of Evernote since version 3.0.0.842. Using either the command shell or parameters in a shortcut, ENScript offers import, export, create, and search options.
The How-To Geek focuses on search options with ideas to search individual notebooks, search for recent notes, search by tag, go to one specific note (useful for working on specific projects), and any combination of them. Once the shortcuts are built, they can be easily accessed from the Windows taskbar using StandaloneStack2. I would point out, you can also add your own toolbars to the taskbar that function like the old Quick Launch menus. I have a list of lesser-used shortcuts on my media PC organized this way, but it's definitely not as attractive a solution as StandaloneStack2 or other docking systems.
If you're interested in a pen-centric way of implementing this, ritePen, a member of the Evernote family, allows the launching of executables with parameters via ink commands/pen macros. The creation process is similar to creating shortcuts, as laid out by The How-To Geek, except it's all done in ritePen's macro creation area and the parameter has its own field separate from the path to the executable. Thus, if I wanted a shortcut to my "Ideas" notebook, I'd create an ink command called "EVideas" (I mentally shorten Evernote to "EV") that I could launch with a scribble. I should delve into this deeper and put together some basic macros to share (which is easier to do with pen macro import/export functionality in ritePen 4.0).
Via Lifehacker

This article may contain affiliate links. Click here for more details.