enTourage Pocket eDGe spotted (and targeted for termination)
A little brother to the dual-screen enTourage eDGe was spotted in a video report by Forbes about the Governator Arnold Schwarzenegger's tour of Marvell Technology Group. Or possibly it just looked smaller in his giant hands.
The device was spotted by The Digital Reader. The screen grab shows the name "Verizon Pocket eDGe", which supports earlier reports that the wireless provider was getting an e-Reader called "Entourage" though the timing remains in dispute.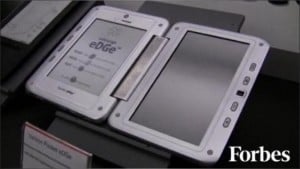 The image suggests it retains the same dual-screen set-up of left-hand e-ink and right-hand LCD, possibly with the same Wacom and touch digitizers, respectively, just in a smaller size. This should prove advantageous as the original eDGe was often deemed too large and/or heavy. (And the product name was deemed too difficult for people to bother capitalizing correctly, as demonstrated by the source articles to which I've linked).
Via Engadget

As an Amazon Associate I earn from qualifying purchases.