Epic 9 Minute Watch Dogs Video Shows Why It's Like GTA 5
Watch Dogs, the open-world game that dumps users into an ever-changing Chicago and tasks them with chasing down bad guys with fire arms and a smartphone that can control crucial infrastructure, excited users when it was first announced. Now a year and a launch delay later, the game is earning a reputation for something other than its hacking. Reports out today peg Watch Dog gameplay is feeling reminiscent of another open world video game: Rockstar's GTA 5.
A story from Polygon and accompanying 9-minute video posted by Ubisoft perfectly explain why users are going to hear Watch Dogs compared to GTA 5 a lot more before its release on May 27th. Like GTA 5, players are tasked with roaming around an open world that's inhabited by normal people. Players can choose to exploit these user's personal data. Collecting passwords and taking money from their bank accounts helps players accumulate wealth in the game. Users can also steal cars and do other sorts of things you'd expect them to be able to do in an open world game. For example, randomly stealing cars and vehicles in Watch Dogs will attract the attention of the local police and players will have to use their hacking skills to avoid them.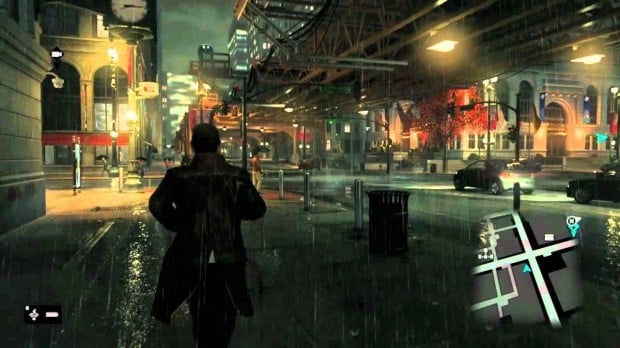 Where Watch Dogs deviates from the formula Grand Theft Auto players know and love is the individualized hacking that's showcased in the online and single player parts of the game. Watch Dogs players will be able to hack each other's games. Escaping a hacking attempt by another player will allow gamers to earn new "skills" and abilities that they can use in the game world as well.
Watch Dogs will feature a companion app. Dubbed ctOS, this mobile app will task one user with hacking the environment around another player long enough to prevent him from escaping. Meanwhile, the person playing the game on an actual console is left to doge and avoid the mobile player's efforts. Unlike some second screen experiences, ctOS for Watch Dogs won't require users to be in the same room to play against each other. Competing with users in this mode also allows players to add more abilities to their list of skills.
Comments made by Ubisoft PR Manager Jay Acevedo on Twitter indicate that gamers can expect the ctOS app to be available the same day the game launches. What platforms the app will be available on remains unclear at this point.
A Capture The Flag mode that pits teams of against each other as they try to retrieve and hack encrypted data is also included in Watch Dogs' multiplayer experience. Watch Dogs players can hack the environment around them to add barriers and take down enemies. Of course, they can also just use their fire arms as well.
Gamers play as Aiden Pearce, a man trying to find out the truth about what happened to his family. Pearce uses his knowledge of device hacking and ability to infiltrate Chicago's city-wide ctOS operating system to find and stop the people he's after. He also uses those abilities to unceremoniously hack unsuspecting pedestrian's smartphones and bank accounts. Hacking someone's smartphone provides more information about them and their possible motives for doing whatever it is they're doing at that moment. Comments made by Ubisoft Montreal, the game's developer, also indicate that in-game characters will react to Pearce's actions. For example, massacring innocent people isn't going to earn players a lot of fans inside the game.
Ubisoft originally said that it'd decided to delay Watch Dogs so that it could add more polish and more depth to the random people users encounter. That appears to be true, however it's also possible that Ubisoft delayed the game so as to not compete directly with GTA 5. GTA 5 went on to completely dominate video games sales in September and October. It remains unclear how much any other open-world game would have sold in the face of such a juggernaut. The game actually topped $1 billion in sales in about a week, smashing a record previously held by Call of Duty. Releasing the Watch Dogs now allows Ubisoft to take the slot as the only open-world game available on next-generation consoles because Rockstar Games has yet to formally announce a version of GTA 5 for the Xbox One or PS4.
Watch Dogs is the only high-profile open-world title available on next-generation consoles, but that doesn't mean gamers actually have to pay for new hardware to get it. Watch Dogs will come to the Xbox 360, PS3 and PC as well. The game is still scheduled to make its way to Nintendo's Wii U gaming console, however that version of the game's release has been delayed until sometime in the last part of the year, probably around November.
PlayStation gamers can expect the PS3 and PS4 to also come bundled with a copy of Watch Dogs. PlayStation users can also look forward to an hour of extra content that Xbox users won't have access to. Purchased on its own, Watch Dogs will cost $60 when it debuts on store shelves. That aforementioned bundle appears to be exclusive to players in Europe.

This article may contain affiliate links. Click here for more details.