Epic Call of Duty: Advanced Warfare Story Trailer Finally Reveals All
Call of Duty games have always been about, tracking down and defeating enemies using an assortment of rifles, pistols and grenades. Those things have always made for an exciting multiplayer experience, even if the series' single player campaigns have been a bit flat. Today Activision revealed details about the single player campaign in Call of Duty: Advanced Warfare. To say that the game's story will be epic, simply doesn't do it justice.
Activision released a new story-centric video trailer for Cal of Duty: Advanced Warfare today and its four minutes that'll likely have even Xbox One and PS4 gamers who don't like single player wondering what happens next.
The trailer opens with a quote attributed to former United States President Abraham Lincoln. "Nearly all men can stand adversity but if you want to test a man's character give him power." It's not just some throwaway quote here, it's a blatant attempt at foreshadow.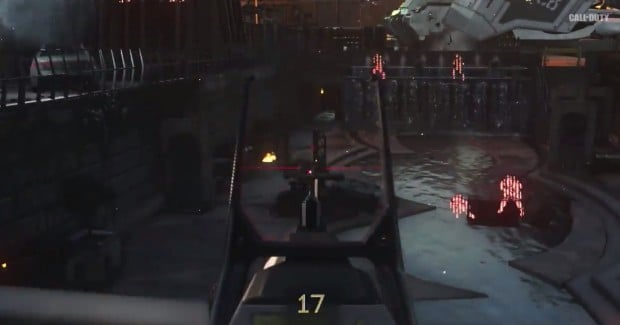 It turns out actor Kevin Spacey, doesn't play some government official hell-bent on grabbing power for himself. Instead he's the head of Atlas, a multinational defense contractor. Before the game takes place, a terrorist attack cripples five nuclear power stations. Together, the blasts don't just cripple the power grid, they all lead to the collapse of governments around the world. To defend itself, America – and tons of other countries, it seems — turn to Atlas as a way to defend themselves from each other.
As one might assume, giving a private corporation too much power, and not having a standing army of your own, absolutely backfires by the end of the trailer. Spacey's character turns and walks out of a meeting with what appears to be American military leaders. Spacey's character declares that "Ideas don't determine who is right. Power determines who is right." He turns back towards the camera and says "and I have the power, so I'm right."
Interspersed throughout the entire trailer is video footage of what users can expect during the campaign. That includes, some pretty epic battles in large cities, giant hovercraft weapons, hand-to-hand combat, and one level that'll also involve a tidal wave of some kind.  Whether all of these are cut-scenes or actual gameplay remains unclear.
The entire trailer closes with just three words, "Power is Everything."
We don't yet know how decent Call of Duty: Advanced Warfare's multiplayer will be, but clearly developer Sledgehammer has worked pretty hard to give players a decent story this time around. That's key because the recent editions of Call of Duty have degenerated into just a multiplayer experience that happens to have a story. The game's campaign missions were slowly starting to feel like an afterthought, something that Activision felt it had to release because of expectations, but lacked any real reason for existing.
Today's reveal of the circumstances surrounding the Call of Duty: Advanced Warfare single player came just after the game's special editions were finally revealed. Like the singe player experience, Activision and Sledgehammer seem to have gone back to the basics on those as well. There aren't any flashy remote control cars or anything. Instead, users get only the essentials: access to the game's 2015 line-up of add-on content, a physical manual and collector's case and a few weapons and upgrades for their in-game character.
Read: Call of Duty: Advanced Warfare Special Edition Details Revealed
Activision and Sledgehammer have made it clear that Call of Duty: Advanced Warfare was designed with the Xbox One and PS4 in mind. Players on those consoles can look forward to high-definition graphics. That being said, users don't need to upgrade to experience the game. Call of Duty: Advanced Warfare will launch on the Xbox One, Xbox 360, PS4, PS3 and Windows PCs on November 4th.

This article may contain affiliate links. Click here for more details.