Epic Games Says Apple Could Compete Against Home Gaming Consoles with iPad
At the debut of the new iPad, Apple CEO Tim Cooks posited that the tablet would make a great replacement for dedicated home gaming consoles, like Microsoft's Xbox or Sony's Playstation, and Apple developer partner Epic Games thinks that Cook may be correct. With iOS already supporting AirPlay, a WiFi-based technology that allows users of OS X and iOS devices to mirror their screens onto a larger HDTV display when connected to an Apple TV set-top box on the same network, Apple is already positioning its iPhone, iPod Touch, and iPad as a large-screen game-playing experience on its website. Through the AirPlay technology, users can play games and multi-player games with their mobile iOS devices and use their iOS devices both as the console and the game controller.
In a recent interview with Reuters Epic Games head Mike Capps envisioned an even more immersive game play experience where Apple would allow–or create themselves–a game play controller, like the controllers on today's gaming systems, to connect to the tablet or phone and allow users hardware controls to interact with their games. Additionally game play would be mirrored to an Apple TV environment. The move would shift the iPad and iPhone from casual game scenarios to long-term gaming potential like those enjoyed by Nintendo, Sony, and Microsoft with more immersive titles.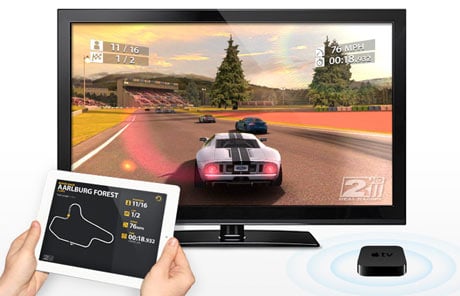 It's unclear if Epic Games have more intimate knowledge of Apple's endeavors and plans for the gaming space as the company had appeared in all three Apple keynotes to introduce the iPad, iPad 2, and the new iPad.
Game developers have in the past expressed opinions that Apple could take on long-time game console-makers with its mobile devices. The iOS-software-maker is also rumored to be working on a full-featured television set that would include iOS, a refined UI, Siri, and perhaps even an app store.
So far, Apple's gaming and iOS ecosystem places the App Store on the iPad, iPhone and iPod Touch, rather than on the Apple TV hardware unit. This may be a smarter alternative than creating an Apple TV with a built-in game or app store as it would inflate the price of Apple TV to accommodate a better processor with a capable graphics architecture. For instance, despite utilizing an A5 chipset on the latest version of the Apple TV introduced alongside the new third-generation iPad, that chipset is an improved single-core chipset, not a dual-core A5, and definitely does not have the graphics prowess of the A5x on the new iPad. This helps to keep costs down and the improvements made to Apple TV is made merely to allow Apple to stream 1080p HD videos to the home set-top box, and not to decode and render graphics-intense games.
Rendering these games would still be done on the iPad. The benefit here is two-fold for Apple. First, it helps to keep the pricing of Apple TV down, as we had mentioned, which may help to spur increased adoption of the set-top box, which Apple is still calling a hobby for itself as Apple TV sales are still no where near the level the company had hoped it would be at. Second, by keeping the power on the iPad, Apple could spur annual upgrades from more serious gamers. With an entry-level price of $500, Apple stands to make money through annual refreshes of its slate, rather than–hypothetically–a $200 Apple TV unit that packs in the processor, graphics, and App Store capabilities. This way, Apple also has the ability to sell both an Apple TV and an iPad to gamers, rather than just selling one component of its ecosystem.
Rival game house Electronic Arts, which had been bullish on Apple's gaming moves in the past, says that it is watching the space. "When the iPad gets to the processing power that's equal to an Xbox 360 and it connects to a television, that's no big deal to us — we'll put the game through the iPad and have it display through the television," EA says.
However, when that happens, games will become more involved with more levels, more details, and more immersive play. Will we begin to see high-end games push the $10 boundary for games?

This article may contain affiliate links. Click here for more details.