Epic Halloween Costume Uses 2 iPads to Create Gaping Torso Wound
What might be the coolest Halloween costume I've seen yet uses two iPad 2s, some fake blood, duct tape and FaceTime chat to make it look like the wearer has a hole in his torso.
(Read Some iPad Halloween Magic from Magician Simon Pierro)
In a YouTube video, the creator explains that he cut out the front and back of a jacket, put some fake blood around the hole and then duct taped an iPad 2 to the front and to the back. After starting a FaceTime chat the result makes it look as though he has a hole in his torso thanks to the iPad 2 cameras displaying whatever hides behind or in front of the wearer. The video shows the results.
This won't be a cheap costume with one iPad 2 costing $499 at a minimum. The costumed zombie explains that if you don't have Wi-Fi or the Wi-Fi keeps you from getting a decent connection between the two tablets, just use a Mi-Fi. That's going to set you back another $60-$90 a month plus the cost of the device. If you have a smartphone, you can add a mobile hotspot package for the month, starting around $20, and cancel it at the end of your billing cycle.
If you already have two iPad 2s or can borrow a friend's, this will make a pretty awesome costume. It also allows you to become a source of entertainment in case your party sucks. Just fire up a game and you've got something to do to wile away the time while your drunken friends drown bobbing for apples. Stock the back iPad with some spooky horror flicks to entertain fellow party goers who get board as well.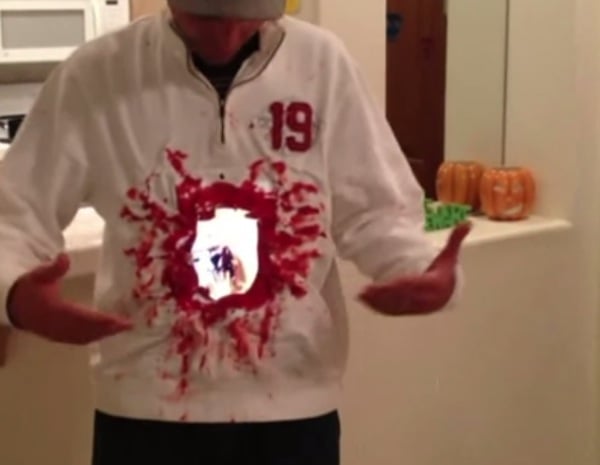 For more iPad Halloween goodness check out Pride and Prejudice and Zombies On the iPad.

As an Amazon Associate I earn from qualifying purchases.