Epic News Arrives as Disney Infinity 3.0 Release Date Nears
With the Disney Infinity 3.0 release date quickly approaching, we're learning more about the features video game developer Avalanche has planned, plus new details about exciting upgrades coming after it's August 30th launch date.
The video posted ahead of the Disney Infinity 3.0 release focuses on all the new features players can expect from the Disney Infinity 3.0's Toy Box feature. Toy Box is an open-world. Avalanche gives users to the tools to create whatever they want using buildings and extras from the Disney Infinity story mode.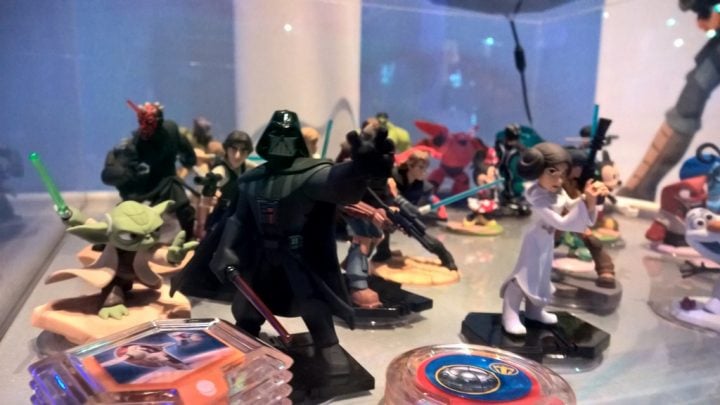 Disney Infinity 3.0 has a Toy Box Hub. The Hub itself consists of different lands with their own theme. Each land within the Toy Box Hub is inspired by a Disney setting. Main Street, a Toy Box zone mentioned in the new Disney Infinity 3.0 trailer, is themed to match the Main Street of Disney World and Disney Land. Avalanche wants users to play in each land connected to the Toy Box Hub to get a feel for what the game the game's activities are like. Avalanche has divided activities into different styles of play. For example, racing is a big focus this year. Buildings in the different lands have interiors and there's combat for taking on enemies too.
GottaBeMobile got the chance to do some combat and explore some of the Toy Box Hub during this year's Electronic Entertainment Expo. During that time we also got to experience another of Disney Infinity 3.0's new features: farming.
Read: Disney Infinity 3.0 Impressions Ahead of Release
Users customize their a Disney character and then feed the crops they farm to that character to improve their stats and abilities.
A big part of the Disney Infinity experience is creating levels and challenges for other people. To that end, Avalanche has stuffed Disney Infinity 3.0 with new tools for creators. A path creator forces players to follow along as the creator of a mode intended. Disney says that Toy Box creators can use the feature for side-scrolling games and races. Avalanche has also filled the sandbox with tons of new buildings inspired by its properties. At any time players can get new toys from a dispenser to go along with those new buildings. Instruments and pads inside the Disney Infinity 3.0 Toy Box experience let users create music with their in-game characters. There are tons of new vehicles too.
https://www.youtube.com/watch?v=3PTO9JHJXDw
Disney Infinity uses physical play sets and toys to unlock different options and accessories in-game. Disney Infinity 3.0 focuses on Star Wars. At an event this weekend Disney confirmed that Disney Infinity 3.0 will get figures and a playset inspired by Star Wars: Episode VII. That's the new movie coming to theaters this December. The Disney Infinity 3.0 Starter Set comes with Anakin and Ahsoka figures inspired by Star Wars: The Clone Wars.
Peter Pan, Good Dinosaur and Zootopia are also confirmed for Disney Infinity 3.0, according to GameInformer. The outlet also confirmed that Disney Infinity 3.0 would have the Keyblade from Kingdom Hearts as its ultimate weapon. Ultimate weapons are available to anyone who purchases and unlocks all the figures in Disney Infinity.
Read: Disney Infinity 3.0 Release Date Revealed
The Disney Infinity 3.0 release date is set for August 30th in the United States. The game will launch on August 28th in other parts of the world. The Disney Infinity 3.0 Starter Playset will include Anakin and Ahsoka in a campaign called Twilight of the Republic. Other packs will unlock The Force Awakens, Rise Against the Empire Marvel Battlegrounds and Inside Out.
Amazon and GameStop still have Disney Infinity 3.0 release date pre-orders available for Xbox One, Xbox 360, PS3 and PS4. Users won't need to upgrade consoles to get the latest in-game features.

As an Amazon Associate I earn from qualifying purchases.